OctaFX Forex broker reviews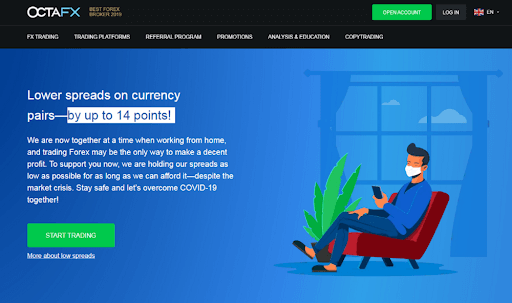 There are thousands of Forex brokerage providers out there, and each tries to present their own unique approach or method of trading, all in order to stand out. Some claim to have extra-fast execution or utmost transparency, OctaFX tries to amalgamate all these qualities into their own product called cTrader.
All promotion campaigns of OctaFX revolve around this product. In short, there are 3 major platforms you can choose as your means of trading:
cTrader;
MetaTrader 4;
Metatrader 5
CTrader has a few prominent features, like partly automated trading and different mechanisms that ensure transparency. More on that note later.
Suffice it to say, there are other features on this platform, some are genuinely innovative and interesting to tinker with. Because of them and the generally good service, the reviews on this platform are relatively high. Not too high, however. Before we jump to reviews, let's see what OctaFX is really all about.
What is OctaFX?
There's sadly not much information as to who OctaFX owners are and what their goals and mission may be. Many other exchanges and brokers are all too eager to share such information to win the trust of their new customers. OctaFX is not amongst them. If there are blocks of information about their values and so on, it's buried deep under the heap of other features. Fortunately or no, there's a lot of them.
Virtually the only piece of information worth noting on their 'about us' page is that they provide cost-effective service, which doesn't make too much sense. They do provide fairly short spreads, that's all there is.
You can also guess that the platform is focusing their effort on making trading beneficial primarily for Asians – namely, Bengali, Indonesians and Chinese, to lesser extent. It doesn't mean that you'll have poorer service if you aren't a Bengali. However, if you are, then you'll have much more favorable conditions.
For instance, their praised Islamic account can offer you:
No interest for overnight positions;
Swap-free trading on accounts;
Fixed fees;
Weekly rollovers of -20 USD (for cTrader)
Fortunately, the Islamic account is available for everyone in just one click. There are virtually no limitations on signing up.
Amongst other free features for the members, you can dig through an extensive supply of analytical and educational reading, sign up for copytrading (basically, all your positions will copy that of some master of your choice), and also several fairly good referral programs.
Now, let's see what users have to say about all this.
The ranking
If you visit the popular review aggregators (like Trustpilot and Forex Peace Army), you'll see that the rating of OctaFX doesn't exceed 3/5. It means there are reoccurring fundamental problems that many users faced independently.
Interestingly, the Android version of cTrader has a rating of 4.1/5. Interestingly still, you can't see any reviews, though there must be almost 2000 of them (as of September 2020).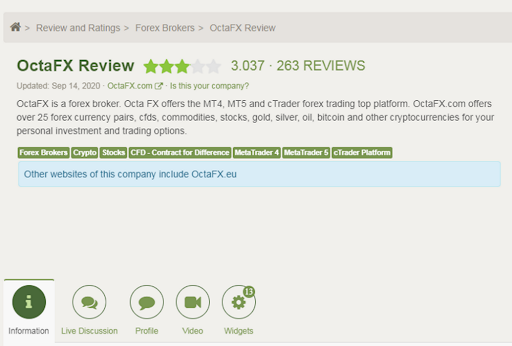 The advantages
Let's talk first about the qualities that make working with OctaFX a beneficial experience, and then discuss their shady activities.
The withdrawals and deposits are mostly fast. The speed of such transactions can't be fast in 100% cases, especially not on this platform (more on it in disadvantages). OctaFX tries, however. Quick depositing and withdrawing are two of the most prominent subjects of boasting here.
Mirroring that, a large portion of positive reviews mentions the outstanding speed of their transactions from and to the platform. There are still issues, and you'll see what they are in a bit. Mostly, they have something to do with the security, or so the owners claim.
If you're afraid of financial setbacks on the platforms like this one, you can give a try to the cTrader app. If the reviews are not false (which they should be), you'll have a much easier time withdrawing your money from here.
cTrader is an effective platform. The official trading platform by OctaFX is actually not a bad choice, if compared to the other two options. You'll get your speedy execution and partially automated experience without 'desk interventions'. The prices are also transparent, but there's an issue.
This issue, however, has more to do with the owners themselves than the platform, so it would be unfair to diminish the value and effectiveness of this system. Like MT4 and MT5, you can boot it on PC, Web or Mobile.
The disadvantages
There are, of course, the disadvantages. Let's discuss the ones mentioned above. First of all, let's address the issue with the prices on cTrader.
The prices aren't safe from manipulation. The owners have been many times accused of manipulating spreads, price drops and prices generally. It's possible to do on MTs, but the practice really seems to shine on their own cTrader platform.
It's not really proven. The angry reviewers might simply lose a lot of their money and blame the house for 'manipulating the sheets'. However, it's not uncommon for a broker platform to want their users to lose. There are many reviews claiming that they do, however, so be vigilant.
The conditions are flimsy. Many people over the years complained that the platform demanded large additional fees from them mid-experience. OctaFX replies that they have the right to do so. And yes, they do, the terms and conditions state that they can change the deal based on several criteria (like the amount of deals a person covered) and the size of the deposits.
They have a right to do so, legally. However, it doesn't mean that these rules aren't garbage. They aren't fair or justified. They are there simply to let owners leech on the users.
In conclusion
The products of this broker may be comfortable to use and overall efficient, but the broker itself is shady and untrustworthy. It's true that the majority of user complaints are technically in the wrong.
Realistically, however, the conditions of trading on this platform are Draconian, and you'd be better off trading somewhere else.