TD Ameritrade broker review: is it trustworthy?
TD Ameritrade is one of the oldest companies in the industry. The company has earned a good reputation for all the years that it has been working and expanded immensely. But can it really be trusted as it is said on the Internet? Read our TD Ameritrade review and find it out!

About TD Ameritrade
The company has been founded in 1978. It is one of the biggest American stockholders and is regulated by several authorities: SEC, FINRA, MAS, and CFTC. These are trusted authorities that show the level of the company.
The broker has got a lot of experience for all the years it has been operating and there were no issues. It has a banking background and the finances are quite transparent. Many blogs and services position this company as the best one for traders of all kinds.
What can you trade with TD Ameritrade?
With TD Ameritrade, you get access to a bunch of products of all kinds These include:
Stocks
ETFs
Forex
Mutual funds
Bonds
Options
Futures
As you can see, the list is quite big and this means that different traders can find what suits them best here.
Fees at TD Ameritrade
In 2019, the company had a pricing war and significantly decreased its fees. First of all, stock trade fees, ETF trade fees, and options base fees are $0.
The options per contract fee is $0.65, for mutual funds trading it is $49.99, and for broker-assisted trades, you would have to pay $44.99. This is a very big fee which will definitely eat into your profits.
Available tools and platforms
There are many trading tools that are used for detailed analysis. For instance, there are more than 400 technical studies for each chart. This is the highest amount of instruments in the industry.
If we speak of the trading tools, there also is a huge number of them. These include virtual trading, social sentiment check, backtesting, and checking how various events affected the markets in the past. This is not the end of the list, there is more to see!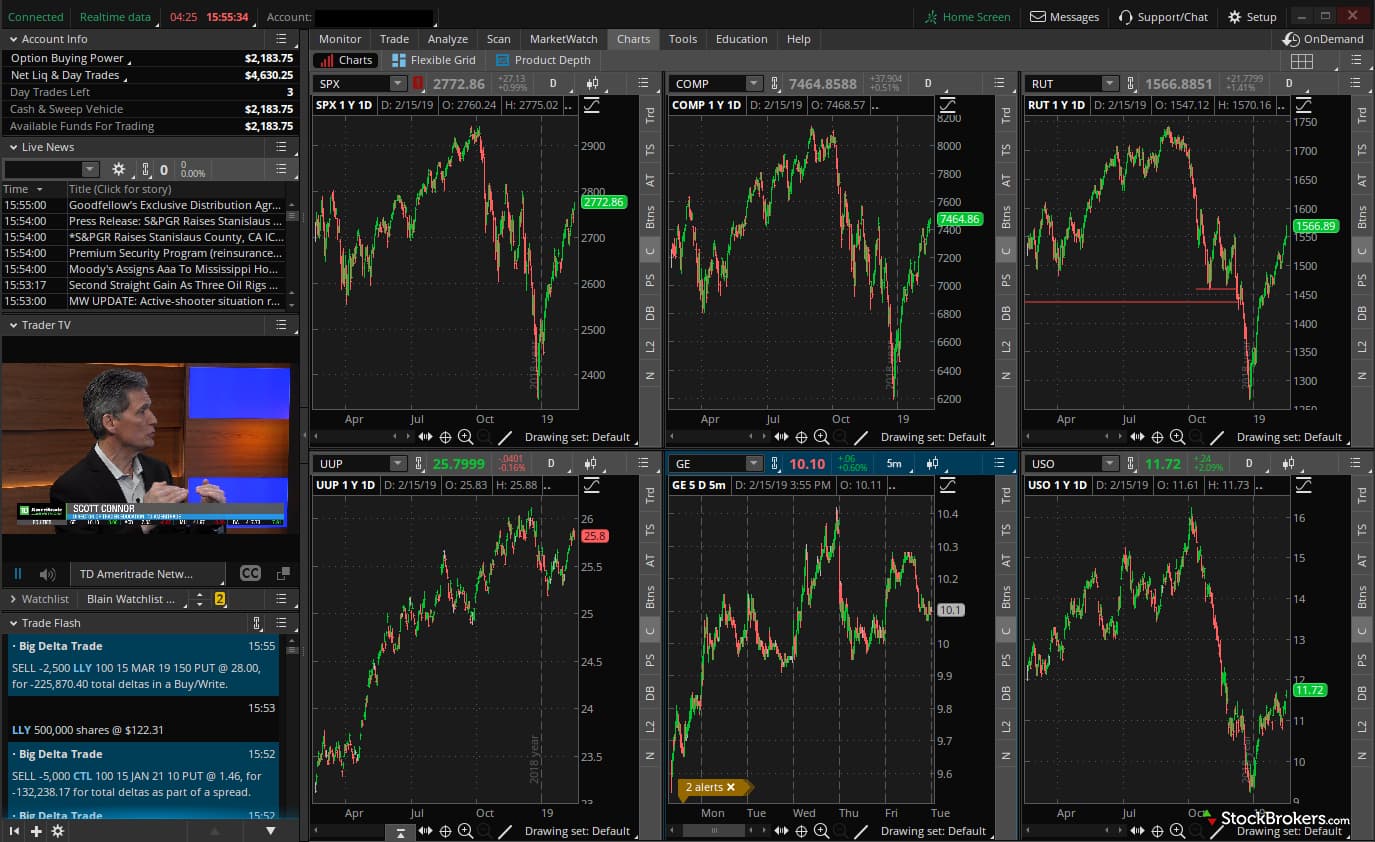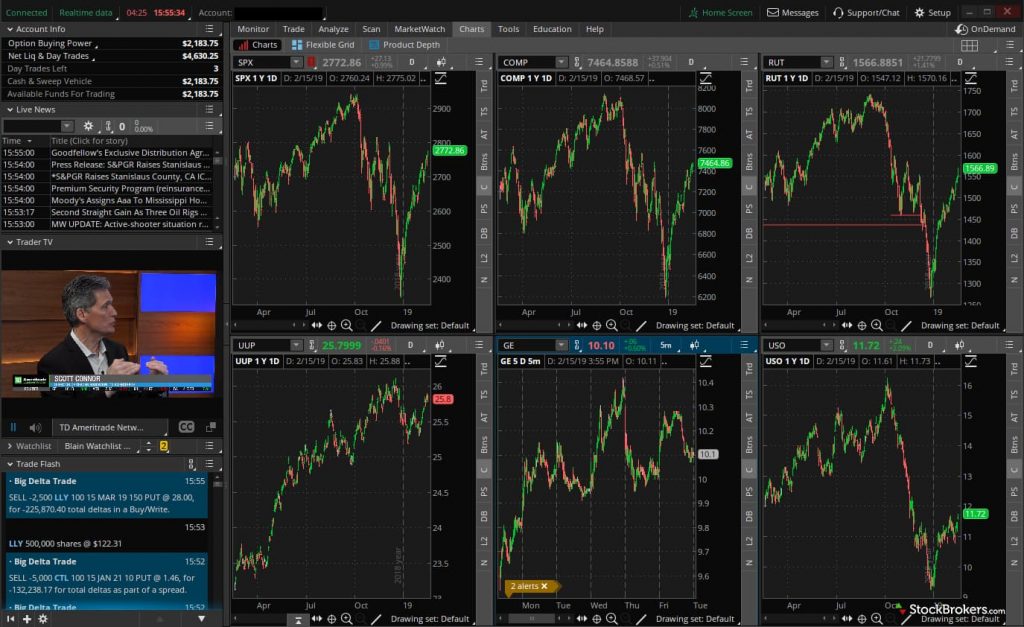 Although previously it was possible to trade through a web platform named Trade Architect, now the company has refused to use this option. Currently, a desktop trading platform called Thinkorswim is used. It is easy to use and provides many tools. There also are two mobile applications for trading. One is designed for beginners, and the other is designed for professionals.
Customer support
If you have any issues with the service, contacting the customer support is very easy. First of all, most questions are already explained in the FAQ section. However, if you still need to talk to a specialist, there are plenty of ways to do that.
On TD Ameritrade's official website, there are several phone numbers for different languages and issues. For example, if you need help with a new account, call 800-454-9272. Also, it is possible to text the company via Facebook Messenger, Twitter, or TXTTDA. Finally, you can send a fax via 866-468-6268.
For serious issues, it is possible to visit one of the 250+ offices of the company. They can be located by entering your city or ZIP code in a special form. The system will show the nearest office.
Usually, it takes less than one minute to be put through with a support agent. The people working there give quick and professional answers. This is a sign of high-quality customer support. No wonder it is ranked as one of the best in the field!
Education
TD Ameritrade provides a lot of material for users to learn more about trading and the way it works. These include:
A demo account
Video materials with tutorials
General video materials
Regular webinars
Many articles and guides
Unlike with other brokers, the educational materials are really useful and give you some actual knowledge. The Thinkorswim platform is worth mentioning for its papermoney demo account that lets you try out different strategies without losing real funds. All this is combined with powerful analysis tools, using which you gain a lot of experience.
Is TD Ameritrade safe?
It has been previously mentioned that TD Ameritrade is regulated by several authorities: SEC, FINRA, CFTC, Securities & Futures Commission of Hong Kong, and MAS. The broker is based in America, which you could have already guessed from its name. Scams are usually based in offshore zones and cannot stay in wealthy countries for long, so this is a good sign.
Another good thing about the broker is that all users from the USA are covered by the SIPC. For instance, if something wrong happens to the company, this scheme will protect up to $500,000 or $250,000 in cash. In addition, there is an insurance fund that covers $152 million or $2 million in cash per each customer. This is a very good thing that completely proves the safety of TD Ameritrade.
However, there are some pitfalls. The SIPC does not cover all investments. This includes all unregistered documents, metals, future contracts, options, and other stuff like that.
User opinions about TD Ameritrade
Although everything seemed to be good when we checked all the information about the broker, there appeared a surprise when we read the customer reviews. People have a very negative opinion about this company and this is something that must make you think about its trustability.
Here is what a user with the nickname Meijun who is from Australia thinks about the service. She states that she is a Finance Professional and that the company tried to deceive her by blocking her account.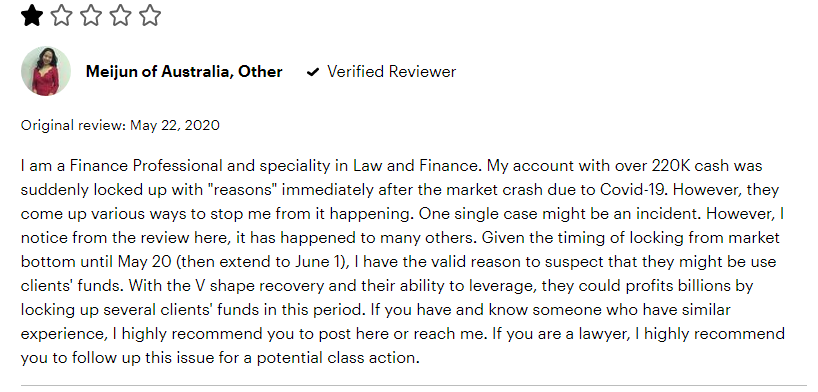 Meijun states that she had more than $220,000 on her account and that this may be the reason she was blocked. She is not the only one with a similar issue and this is very disappointing.
Another user with the nickname Rakesh from Los Angeles states that the customer service is terrible.

She tried to contact the support but it appeared to be a waste of time because the agent appeared to be a non-English speaking person. This made her close her account because it was impossible to solve her issue.
Conclusion
Although TD Ameritrade seemed to be a good choice at the beginning of this review, when we got to the customer reviews the tables turned. Investing your funds here is quite risky because the user opinions state that the broker does not let people withdraw their money.
What about your experience with this company?