Exness broker review: can you trust this company?
Even the most long-living companies might appear to be scams and frauds. Avoiding these is quite complicated because of many factors: fake user reviews, fake regulations, single issues, and a lot of others. Is it the same with this broker? Read our Exness review to find out!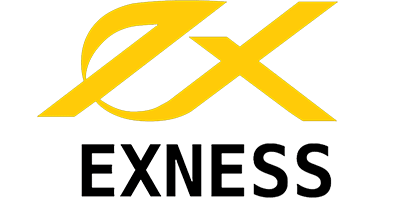 About Exness
The company was founded in 2008 and is based in Limassol, Cyprus. It is regulated by two authorities in the EU zone: the UK FCA and CySec. Although the latter is not that trusted among traders, the former has got a decent reputation in the industry.
According to some sources, Exness has won a lot of awards in different nominations. However, we could not find any proof on the broker's website, so it is impossible to confirm the trustworthiness of those sources.
An interesting fact is that Exness sponsors the Real Madrid football club. Proof can be found on the club's official website. We consider this to be a good sign because not many scam companies can afford to sponsor such clubs and remain in the open. This means that Exness is more likely to be a legit choice.
What can you trade with Exness?
The offering of investments at Exness is somewhat limited. The company is primarily aimed to work with forex, but there also are CFDs. Overall, the broker provides:
104 currency pairs
112 CFDs
Spot trading is available, but copy-trading is unavailable. There also are no cryptocurrencies, although they are quite popular in the industry.
Fees at Exness
The commissions and fees at Exness depend on the account type you decide to use. Generally, the charges are based on tight variable spreads.
For example, if you use the Mini MT4 account types, spreads start from 0.3 pips, the minimum volume is 0.01 lot. You can have no more than 100 positions. The minimum deposit is $1.
If the Classic MT4 account type is used, then the spreads start from 0.1 pips, the minimum volume is 0.1 lot. There are no limitations regarding the number of positions. The minimum deposit is $2000.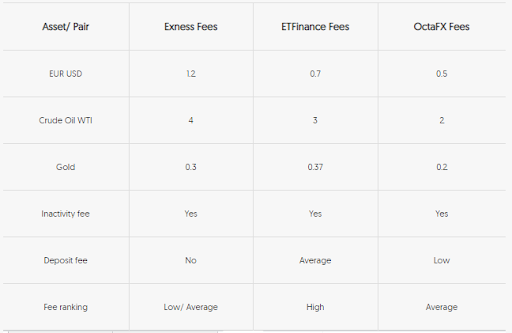 In the table above, you can see the fee comparison for Exness, ETFinance, and OctaFX. You can read our previous reviews about these services if you are interested.
Payment methods
According to the information on the broker's websites, deposits and withdrawals are instant. The following options can be used:
Wire transfers
Bank cards
E-wallets
We have also previously mentioned that the minimum deposit sum is $1. However, it depends on which account type you want to open.
Withdrawals have some limitations like minimum and maximum sums. These must be checked on the broker's website because various sources provide different information. Although there are no fees that are charged by the service, it may appear that because of your country's origin, you might have to pay an additional sum.
Customer support at Exness
Getting in touch with the customer support at Exness is not difficult. All you have to do is open the Contact Us page on the broker's website. There, you will see that there are three options to contact the support: live chat, email, and callback.
A prominent feature that multiple languages are supported. These include English, Thai, Russian, Chinese, Arabic, Hindu and Urdu, Vietnamese, Bengali, Spanish, Korean, and others. There are different work hours for each line. We recommend that you check them on the official website and do not trust third-party services.
Customer reviews about Exness
There are many reviews about Exness on the web. According to Trustpilot, 8% are "excellent", 46% are "Average", and 15% are "Bad". This means that people are neither glad nor disappointed with the service. However, it is important to note that most of the average or bad reviews are spam with advertisements.
A user with the nickname "Robert Dan", writes that he has been working with Exness for over 6 months and there were no issues except one time when his withdrawal was delayed. He mentions that this is one of the most reliable trading platforms and he is glad that he works with it.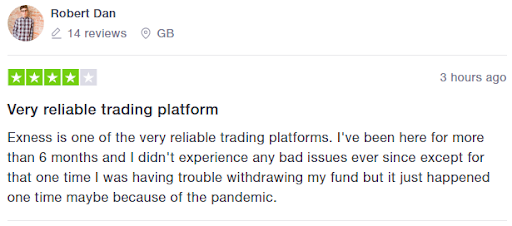 Another user, "Nathan Kelly", writes that Exness is a platform that you can rely on. He mentions the offered assets and likes the availability of such a broad choice.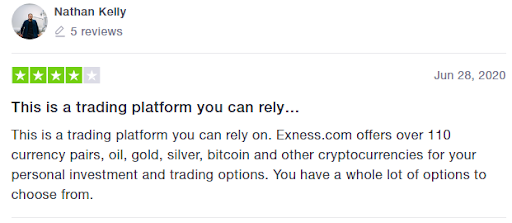 Finally, a user with the nickname "William Timi" writes that Exness provides the lowest fees on the market and their platform is easy to use. He mentions that his withdrawals were very easy and the support helped him with all the issues.

We recommend that you analyze the reviews on your own and see that most of the average and negative commentaries are actually spam. This will help you make a choice.
Final thoughts
Although Exness is based in Cyprus, it appears that it is also regulated by an authority from the UK and provides decent trading terms. The user reviews appear to be not that bad, although we were quite surprised when we saw the ranking. With detailed analysis, it was found out that there are many spam opinions that should not be considered as a real review. Therefore, we consider that this is a trustworthy company with legit terms.
What about your experience with this broker?