Bitbuy exchange review: Canadian experience
Bitbuy is an exclusively Canadian experience. So much so, they refuse to admit people from outside of Canada, use currencies other than CAD and use services that aren't used by Canadians. You can work with them from any country of the world if you have VPN, but it was not designed this way, and you may not be comfortable there.
Regardless, Bitbuy provides an alright trading experience, all things considered. This article will try to give you as deep an insight as possible in order to understand all aspects of trading on Bitbuy.
What is Bitbuy?
Bitbuy is one of the newer and less-known providers of crypto brokering. They have been launched in 2016, but even so they can boast a sizeable constant user base, a fairly big value cap and, as a result, a lot of liquidity. In turn, it means you're perfectly able to make your fortune here exactly as you intend to do, without too many unplanned losses.
Now, most importantly, Bitbuy is, in fact, regulated by FINRA – which is to say, the Canadian government. FINRA usually does well to enforce its limitations and rules upon brokers located in this country, but not always.
Nor does this regulation mean they won't be giving you a hard time at all. There are obscure and not really illegal ways to make you waste your time and money. Bitbuy employs some of them.
Trading on Bitbuy
Bitbuy isn't famous for their big selection, although you might expect them to give you a lot of coins to trade, given how many bigger exchanges can support as much as several thousand of them.
In all fairness, you won't likely need anything besides what's on the menu in Bitbuy. And that is:
Bitcoin (BTC)
Bitcoin Cash (BCH)
Ethereum (ETH)
Ripple (XRP)
Stellar Lumens (XML)
Litecoin (LTC)
EOS (EOS)
Five of them are popular coins with a lot of prospects for money-making. EOS and XML, for their part, seem to be side projects of Bitbuy. They didn't create them, but they did implement them into their exchange for some academic reasons, no doubt.
Technical aspects
The more important things to discuss are how high the commissions are, how big the spreads are, and how fast the execution is.
The fees aren't too high. They do promise the near-zero commissions on a lot of their promotional material, and it's technically right. The transfer commissions are as low as 1.5%, although they can go up very substantially, up to 1/5 of your initial sum.
In addition, there are spreads. The spreads float, so you'll have to take a lot of things into account, including the volatility of the deal you're currently making.
On the second though, don't bother with calculating volatility for the specific coin market you're working with. What you need is to understand how liquid it is, and it's not exactly hard.
Moreover, they give you a rough idea of how much you'll have to pay. The spreads aren't exactly big, but Bitbuy isn't exactly immune to slippage either – especially if you're going to trade in less liquid currencies, like EOS.
Finally, the execution – this time, there are no nitpicks, the execution speed is pretty fast. It applies both to the internal mechanisms (trading on exchange, managing your orders and so forth) and to the transfers.
The transfers (deposits and withdrawals) are very fast, and they are even more comfortable to work with given that you're able to transfer through Interac and Canadian banks. The Canadians finally can transfer in comfort.
Trading interfaces
On Bitbuy, you can trade in crypto through two methods:
Bitbuy's own web exchange
An app for Android and iOs
From the technical side, there's no breakthrough. These interfaces are just neat and effective at giving you both the tools and the insight into the markets. Design-wise, they are similarly attractive and clean.
Certain individuals complain that the web version can sometimes be littered with information, but both versions pack the information neatly enough so that no one page has any sort of excessive information. The main page (web) has your orders, the current market trends, several other charts and that's it.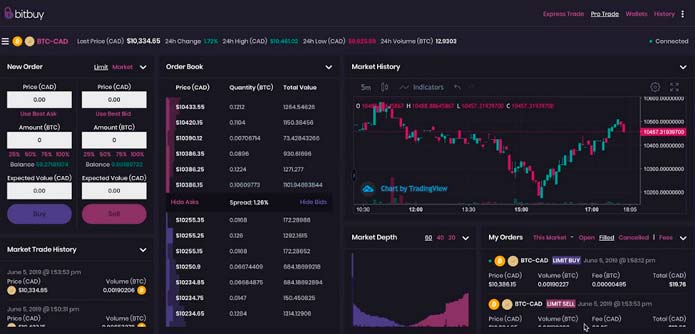 If you want to look at something more profound, like the historic data, you can find it no problem. Bitbuy gives you an ability to both monitor your currencies and manage them without sweating too much.
It applies especially to the mobile version, because you can do all your daily trading routine in just a few clicks.
The disadvantages
Bitbuy is a pretty decent broker, but even they have some very nasty flaws.
The first one has already been mentioned in passing, but it required some more spotlight. The spreads may not be too terrible, but when you try to withdraw your money out of Bitbuy, you can be charged heavily for seemingly no reason. Not all fees are written explicitly, so you can lose 15% of your money on average.
Then there are technical delays – mostly while setting up your account. You can wait weeks until they finally decide to let you trade with them. Sometimes this also happens when you try to withdraw your money – they'll try to verify something and it'll take some days.
In conclusion
Bitbuy is not a terrible provider, far from it. They may not have much of a selection, but what they have is intuitive, easy to use and executed without much toil. But there are also issues like the excessive commissions and slow verification of everything that may need verification.
It's still pretty comfortable for the Canadian. If you are one – you may consider checking them out.