BDSwiss Forex broker review: Upsides and Downsides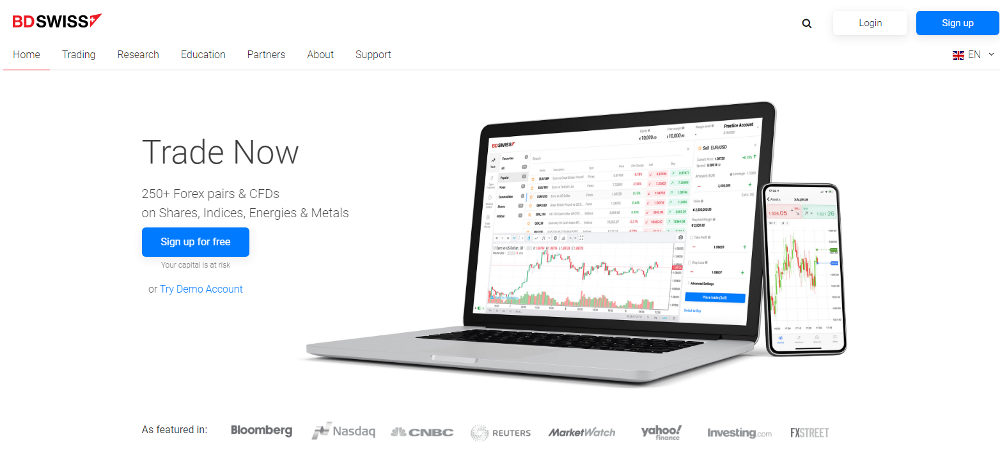 BDSwiss has been active online since 2012, when Bitcoin was on the rise once again. Since then, they've been able to accumulate quite a user base, and they are considered one of the top European brokers. There are lots of them, so it doesn't necessarily mean you've heard about them before.
However, their reputation has not been the cleanest. BDSwiss has a lot to offer, but the experience is deeply flawed, and there are certainly better candidates. Whether they are particularly bad at their job, it remains to be seen.
Broker description
BDSwiss is one of the few big FX & CFD Swiss brokers, as you might've gathered. That is, they were originally a Swiss company. They are registered on the Seychelles at the moment, so it's pretty hard to say for sure.
They have several markets you might be interested in:
Forex – 51 trading pairs, featuring major and minor currencies
Commodities – 7 oil and metal assets
Shares – roughly 150 assets from US, UK, France, Germany, Spain, Holland and Switzerland
Indices – 10 stock packages from all over the world
Crypto – 20 trading pairs
You can trade it all as you would normally or take a risky and potentially more profitable route through CFDs (contracts for difference). On BDSwiss, they are just part of the usual routine and you're welcome to try it. There is a lot of information you may use and several trading platforms if you want one for your specific style.

Trading platforms
BDSwiss added both MT4 and MT5 to their assortment. They couldn't do otherwise, these are the flagman interfaces used by the majority of FX and CFD traders. And there is also BDS's own software in several variations, but let's first discuss what they did with MTs.
First of all, MT4 is the most popular online trading platform of all time, but different brokers change them and customize them ever so slightly. There are lots of various MT4 applications lying around online, and BDS compiled a lot of them. There are more than 200 distinct instruments, charts, tools and other stuff.
The general destination they took is basically making the interface cleaner and more versatile. You can open up several charts in one window, put opening and closing markers, and otherwise automate the experience. The key outtake is that you can see everything without much strain – the design is clean and doesn't have any extra junk.
The approach is the same as with MT4, but given that the newer version also supports more exquisite and generally more effective tools, they were able to implement advanced mechanisms.
Many of these new features enhance the multi-tasking and automating capabilities. You can trade even more assets (especially CFDs) simultaneously, not in the least with the help from automated algorithms like Expert Advisors (not available on MT4). 
MT5 is more complicated, but if you can use it, it pays off very much.
BDSwiss platform was designed by this broker, and the chief goals were to make the interface friendlier, simpler and yet versatile. They did an alright job. The interface is definitely friendly and comfortable, but whether it's more comfortable than the interface of their MT4 platform is a matter of taste.
This platform has fewer tools, but that's partly because it's much newer than MTs and not many applications have been developed for it since the release. There are some interesting features, like the Trend Analysis tool that works somewhat like Expert Advisors, as well as many other interesting solutions.
It's available for web and mobile, and the mobile version actually has the same problems as its father broker. 
BDSwiss problems
BDSwiss is pretty advanced in many ways. They worked hard on their software, and the broker genuinely offers a lot of opportunity for creative trading. But besides all that, they got a few problems, too.
Now, the complaints that basically sum up to market manipulation aren't going to be discussed, because:
It's hard to know whether it actually occurred
It's counterproductive for the broker
There are genuine problems that need to be acknowledged however. Keep in mind that BDSwiss is likely a legitimate broker. They likely wouldn't put so much effort into developing software, adding so many assets and tools if it was all just a sham. These flaws are likely issues that stipulate from incompetence and/or technical flaws.
Firstly, they are very hard to get money from. Earning them is one thing, but it's hard to withdraw them. It takes a lot more time (>10 days, on average) to get your money via the standard procedures. The staff themselves is aware of it, and they are trying to be supportive and vocal, but the issue isn't going away.
Then there's also a much less prominent issue of wide spreads. CFD is risky enough, big spreads don't help. It's generally pretty risky to trade with BDS – the spreads can be 5 pips and higher, it's not a very good number.
There are other flaws, but they are overshadowed by all the upside this broker has. These two are the most annoying ones.
Summary
BDSwiss has got its problems. Even the mobile app has issues with money withdrawing – otherwise it's perfectly comfortable. If this issue would magically go away, this broker would be a great place to earn some money – they got everything you need.
The solution is mostly just being patient and lowering your expectations a bit. It's a harsh reality, but if you're going to dedicate yourself to BDSwiss, that's the quality you'll have to develop.