XTB broker review: is it a trustable company?
When there are so many brokerage services around, you never know which one can be trusted for sure. There always is a scam website that hides behind the name of a "trusted broker". To help our readers understand which services are legit and which are not, we have prepared this XTB broker review.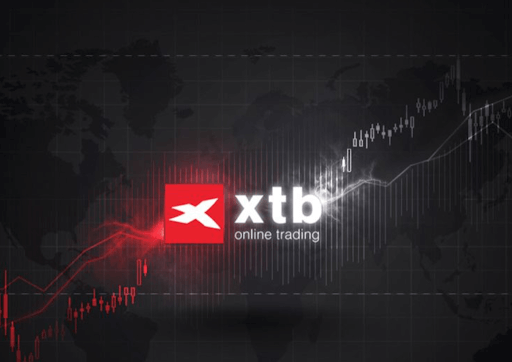 About XTB
The company was founded in 2002 and is currently based in Warsaw and London. There also are several regulatory authorities that have licensed this broker: FCA and KNF. Another important detail is that XTB is listed on the Warsaw exchange. Not many companies can show off with similar things.
According to all the information from above, XTB is believed to be a safe company. However, this is not a reason to trust all your funds for this company. Read on to find out more about the broker to see whether it is a good choice.
What can you trade with XTB?
At XTB.com, you can find assets of all kinds. The list includes:
49 currency pairs
1894 CFDs
Cryptocurrencies as CFD
Moreover, it is possible to work with spot trading and social trading. The number of CFDs is very competitive in the industry and shows that the company has yet a lot to offer.
Fees at XTB
The fees at XTB are considered to be quite low for the industry. As an example, the fee for the S&P 500 CFD is 0.6 pips on average and for the Europe 50 CFD, it is near 2.2 pips. If you remain active for some time, you do not have to pay any inactivity fees.
When real stocks are traded, a commission of at least $10 USD is charged. For CFDs, this is $8 USD. With forex, the sum charged depends on the currency pair.
It is also important to note that the broker does not charge any fees for deposits and withdrawals.
Payment methods
There are 4 base currencies that are supported by the service. These include the GBP, USD, EUR, and HUF. If the account is funded in any other currency, there might be automatic currency conversion which may appear to be not profitable.
The payment methods are:
Bank transfers
Bank cards
PayPal
Other e-wallets with various limitations
If you use bank transfers, expect for the payment to be processed during several business days. All other methods are instant and have no delays. One more detail: you must only use accounts that are registered in your name. Otherwise, payments will be impossible.
When you withdraw more than $100 USD, there are no fees. If the sum is lower than the required one, you will be charged from $12 to $20 USD. This can only be done via bank transfer. All other methods are unavailable. Usually, withdrawals take around 1 business day. It rarely takes more time.
Customer support at XTB
The customer support can be contacted in several ways. There are multiple offices worldwide that can be visited. Also, there are specific phone numbers for each of the supported countries. Depending on the country, you may also get in touch with a support agent via email or social media. This is good because it ensures that you will get a quick answer.
If any issues are encountered, there also is an extensive FAQ and a YouTube channel. They cover the most frequent problems that beginners usually encounter. This saves a lot of time for support agents and lets them answer more important tickets faster.
Customer reviews about XTB
We have searched the web for reviews about XTB and have found many different commentaries. According to Trustpilot, 67% of all opinions were "Excellent" and only 10% were "Bad". This shows that people like the company and trust it.
A verified user without a nickname writes that he had a discussion with a company representative who appeared to be very helpful and professional. The trader got many useful information from him like insights, etc.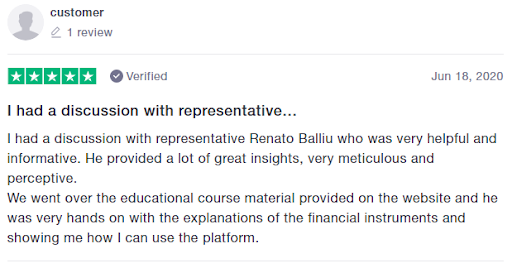 Another user, "Daniel", writes that he likes the broker very much. He mentions that the platform is comfortable and user-friendly. Also, there are no annoying phone calls that may be encountered with many other brokers. The account manager only calls you once and does not disturb you later on. He also likes the availability of many educational materials, news updates, and a high-quality economic calendar.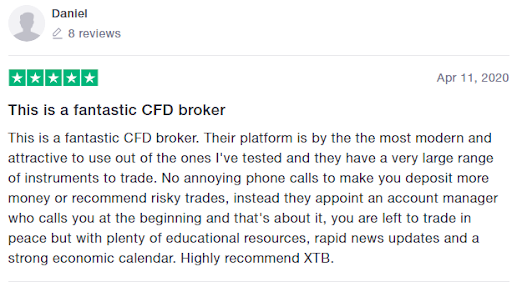 As you can see, the reviews speak a lot about the trustworthiness of XTB. In our opinion, the service is quite good and provides good terms for traders of all kinds.
Conclusion
According to all the information that we have got, we can confirm that XTB.com is not a scam and appears to be a legit company. It is regulated by reputable authorities and there were no significant issues during the years that it has been working. The fees are quite moderate and there are plenty of payment methods that can be used.
The customer support is a separate topic. There are sections for different countries with separate phone lines and social media. This shows that the broker actually cares about its customers.
What about your experience with XTB.com?