Vantage FX Forex broker review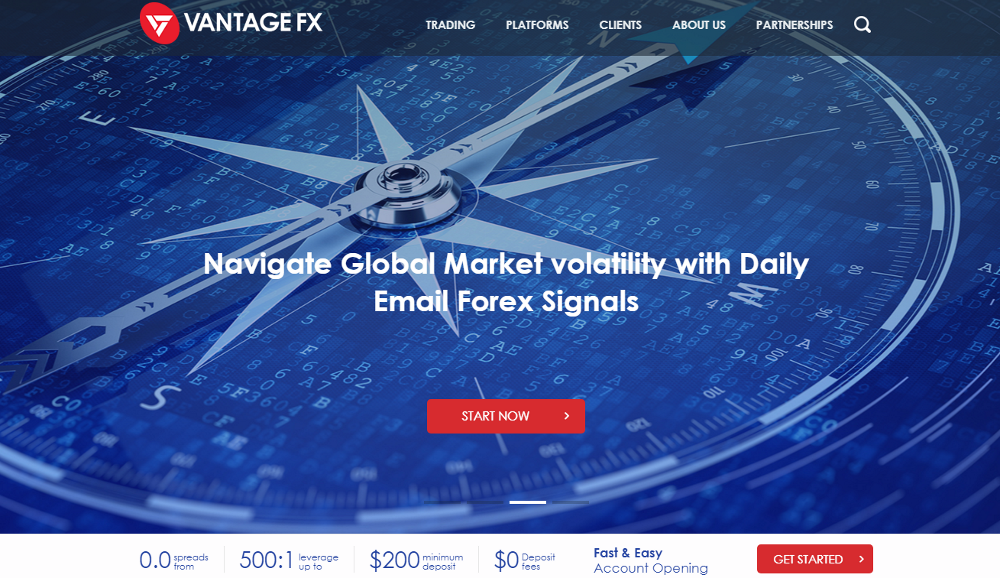 Vantage FX is a massive brokerage provider, in many senses. In one sense, it's a well-known and popular for trading, one of the biggest titans of the industry. In another, it has so much to offer that you start feeling dizzy just by looking at all these offers they have for you.
VFX is a very practice-oriented platform. It doesn't have a lot of educational material, unlike other brokers, but it does have a large selection of different means, instruments and resources for trading. It's likely that putting too much educational content into an already over-saturated mechanism would be overkill, which is reasonable.
There are several questions about such state of things, especially in the maintenance department. The reviews will answer. For now, let's get to know VFX a bit better to see what exactly it has to offer.
What is Vantage FX?
This broker is one of the biggest names on the market, so it seems they deemed it necessary to put as much practical trading content as possible. This includes:
Different account types (demo, live, standard STP, RAW ECN, Islamic);
Different products (Forex, indices, energy, precious metals, shares, etc.);
Different platforms (WebTrader, MT4, MT5, Vantage FX app, Metaquotes)
Additionally, you get to pick your trading style: you can trade on margin, bet on spreads, or just collect dividends. You could benefit from reading all the 'conditions', where you could learn both the market policy and how different methods work.
Now, it's unfair to say that VFX doesn't have the educational chapter at all, they have several useful manuals, but frankly that's it. It's only for the beginners, for the analysis data and recent news you'll have to venture to other platforms. Here, you can:
Learn about Forex
Read MetaTrader 4 manuals
Read MetaTrader 5 manuals
Watch videos about MT4 and SmartTrader tools
You can educate yourself indirectly, because VFX has a separate page for virtually every aspect of trading in existence. You can read about their withdraw policy, deposit policy, leverage policy, support policy, bonuses, regulations, legal documentation, and a lot more.
They are thorough – you have to give them that. It seems they have everything covered and much to offer. What you just read is just a tip of an iceberg, if you're interested in the slightest – you have to come check it out yourself. And if you want to see how VFX behave in practice, you can always set up a demo account – but not before some user feedback.
Before entrusting your money to any broker in any sense, you have to read a few reviews from the users. Lucky you, you only need to read the condensed version of both complaints and praises.
The rating
Two most popular and trusted Forex review aggregators – Trustpilot and FPA – have somewhat polar opinions about Vantage FX. On both these websites the reviews are authored almost completely by the users, but while FPA's average rating is at 2.8/5 (a poor result), Trustpilot's sits at 4.3/5 (excellent).
The conclusion is actually simple to draw – a lot of the VFX reviews on Trustpilot are from 'invited' persons, the people asked by the company to leave reviews about their wonderful experience. They still tell the truth, but it explains why there's a lot more of them than there are negative reviews.
The disadvantages
Let's first address several of the most frequent disadvantages mentioned on both FPA and Trustpilot.
This one is probably the most common problem in the industry as a whole, not just on Vantage FX. Delays in withdrawing funds from the platform can be a product of technical issues, as well as intentional deliberating by the platform. It is unknown which is the cause of delays on Vantage FX, but the withdrawing process can take weeks at times.
Customer support isn't too great
Providing good support is the first thing any broker has to focus on. Even bad execution can be remedied a bit by good service. Here, however, service is often appalling, full of detached answers or simply non-existent. The waiting time isn't really long, but the quality of the support itself is often very questionable and frequently just not useful in the slightest. It's not very comfortable for the beginners.
It seems there are rules somewhere on the website which state that the company is permitted to confiscate your money on several different conditions. It is a reoccurring problem amongst the users, but the exact nature of these rules isn't clear.
The thing it, they rarely tell you what happened, even when you ask. Therefore, you'll have to get into investigation, inquiries, and so forth, which is never fun.
The advantages
Of course, there are very prominent advantages, too. Some reported perks aren't relevant, because a lot of reviews just state that 'support is good', which contradicts the above-mentioned issues. They, unlike these, have proof.
Apparently, the execution of orders on this platform is incredibly fast. It means you'll have no problem buying or selling for exactly the price you intend to. It's an extremely underappreciated aspect. People rarely give it the credit good execution deserves.
The technical aspects of both the website and broker's apps and platforms here are very easy to use, both because of good design and stable servers. Despite the general over-saturation, it seems that navigation on the platform doesn't suffer too many issues.
Conclusion
There are certainly better options out there. Some features are very nice, and the functions and opportunities the company added are nice to have. However, they don't pay off all the headache you'll get for working with them and trying to withdraw your profits from them.
Regardless, thanks for reading this article.