Tickmill Forex broker review: Features analysis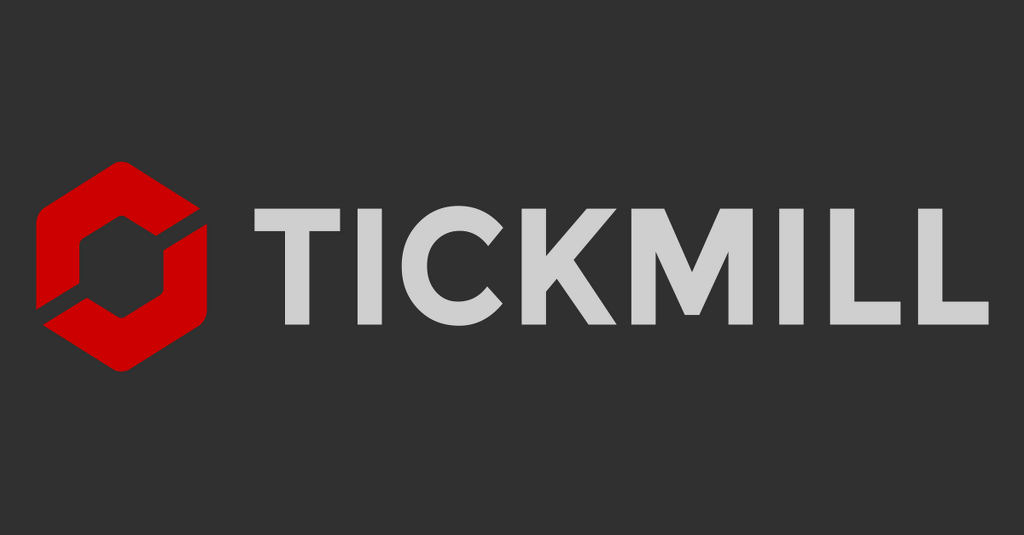 Tickmill is one of the bigger brokerage providers in the United Kingdom. Thousands of people go through them each month, and they are rightly considered one of the most important brokers in Europe as a whole. 
In terms of different features, instruments and software, Tickmill has a lot of this stuff. This abundance clearly promotes experimentation and creativeness, so that people could earn money in their own unique ways.
Despite this, an average trader doesn't use most of the instruments Tickmill has, they just don't look very presentable unless you know exactly what they are. So, let's look into each of them and learn about them together.
Broker description
Tickmill is a Forex broker, and the majority of their users engage in Forex trading – that is, in exchanging different currencies they got here. But this broker is also very keen on accommodating people who participate in CFD trading – an advanced and highly risky sort of trading.
As such, this provider has several covered markets:
Forex – there are dozens of currency pairs on Tickmill, including the major ones as well as exotic combinations
Indexes and Oil – these two are in the same category, because they don't represent one company, but rather a collection of companies united in one index or in one oil brand they work with
Metals – there are just gold (XAUUSD) and silver (XAGUSD) options
Bonds – different EU-issued bonds
As you can see, it's actually not a very orthodox collection. That's because Tickmill specializes in Forex and CFDs, while the products of CFD agreements aren't a primary concern.
So, if you might say that Tickmill overall is a broker for users with a pretty advanced level of trading expertise. It's partly true – you don't really need to trade in CFDs or futures (which are also an option for some products), you can trade in bonds, indices and so forth like you would on an average day.
Account types
Before you jump into trading on Tickmill, you need to settle on an account type you want. There are several options, and they surprisingly don't vary too much. Sure, there are differences, and they will affect your routine, but in a slight way. 
There are 3 main account types:
Each new 'level' doesn't give you more content, tools or privileges. But they do change the way you pay for your fees.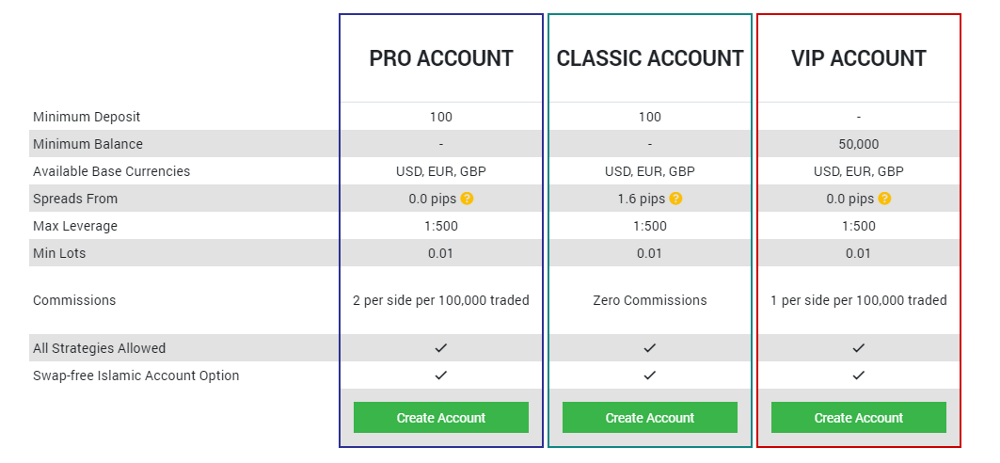 The Classic type is the only one where you don't pay any commission, but the spreads are also generally higher. They start at 1.6 pips, but you'll have to check the full table of spreads, because they are unreliable. The only limitation is that you must have at least $100 deposited (on Pro, too).
The Pro type is reversed a bit in the fee sense. The spreads are much tighter (as low as 0.0 pips), but you have to pay a slight commission for trading. It's 0.002% of your trade size. So, for a contract worth 1,000,000 USD you'll have to pay 20 USD in fees, ignoring the spreads and swaps. It's a good deal, all things considered.
Now, the VIP type is not for everyone. It can only open up if you have a balance of at least 50,000 USD and maintain it that way. What do you get for it? You have to pay commission, but only the half of what you would pay on Pro – so, 0.001%. Mind you, you won't have to sacrifice anything to open it up – you only have to be rich enough.
So, it's largely the choice between spreads and commissions – whatever you choose.
Software
Tickmill has got a lot of tools, instruments and, naturally, trading platforms. So much so, they are actually pretty confusing, even if necessary to go by in this CFD-encouraging place.
First, let's discuss the trading platforms. They don't make it extra clear, but they only have MT4 to offer. That said, there are 3 main versions of it: desktop, web and app. On all of them, Tickmill implemented tons of different indicators and other tools to improve your chances of winning.
But then, to understand them, you have to be knowledgeable enough, and that implies being at least somewhat experienced. So, Tickmill isn't really for beginners or inexperienced traders. MT4 does provide Expert Advisors feature that helps, but it's more for micro-managing issues and not for education, really.
Other tools
And speaking of Expert Advisors, there is actually more software that at least has a potential to help you be more effective at trading. Many of them can be implemented directly into your MT4.
EAs are an essential part of Tickmill, it seems. VPS is a cloud-based technology that allows you to keep EA turned on at all times, so as not to overload your computer. It makes the algorithm more effective and your trading routine more profitable by always keeping you notified about the latest developments.
One Click is another EA-related algorithm. In this case, you'll actually be given ready-made commands to buy or sell something right on your interface. You can comply or reject the proposal in just one click (hence the name). So, if you deeply trust EA algorithm, you might like this one.
Autochartist is a notorious trading tool with all sorts of awesome features. Generally, it analyses the markets and gives you only the essential information, as well as optional notifications about the crucial developments on the market. You also get tons of important indicators and instruments to further improve your MT4 routine.
Summary
In short, Tickmill is a decent broker, but it's definitely not meant for rookie traders. But if you want to be thrown right into the environment that actively trades CFDs and dedicated a lot of its resources to it, Tickmill might be a good call.
Furthermore, there are tons of educational material, including blog-posts, webinar and much more. Getting proficient at CFDs includes learning about it in the first place, which is why Tickmill is awesome for including so much informative content.