Questrade forex broker review: how trustworthy is this company?
No matter how trustable a company may look, it is always better to look into the matter with additional cautiousness. You never know whether the commentaries are true and the broker is legit. Our Questrade review is aimed to help traders find out whether they can trust this company or not.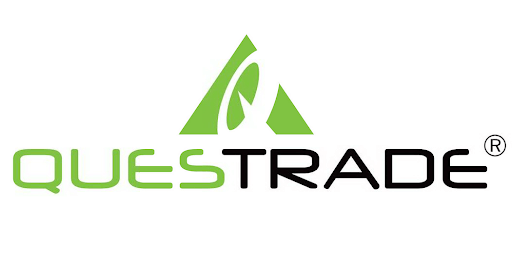 About Questrade
Questrade started operating in 1999. It is a Canadian brokerage service and has always worked within this country. To find out whether this broker is actually safe, you need to pay attention to how protected your funds are. Questrade is a member of the IIROC and CIPF. These are organizations that are quite similar to the Canada Deposit Insurance, so it is a good sign that your funds are safe here.
This also means that the clients of this brokerage service are eligible for the $1 million CAD coverage that is provided by CIPF. In addition, each account is also covered with an insurance up to $10 million CAD.
The company seems to be trusted by authorities and does not seem to have any significant issues for the last few years of its work. The regulations and high insurance make it look quite safe. However, there still are other factors that we must look at.
What can you trade with Questrade?
With this company, you can work with a broad variety of assets:
Stocks
ETFs
Forex
Funds
Bonds
Options
CFDs
However, if you pay attention to more details, you will see that the number remains impressive for only some of the assets. For instance, there are 9 stock markets, 3100 ETFs, 38 currency pairs, 100 fund providers, 1500 bonds, 6 option markets, and 630 stock CFDs.
In comparison with many other competitive services, the variety of choices is much broader with Questrade. Therefore, if you want to have a diversified portfolio with everything in one place, this is a good choice.
Payment methods at Questrade
First of all, Questrade accepts two base currencies. These are USD and CAD. Therefore, if you top up your account by using these currencies, there will be no conversion fees.
The payment methods include:
Wire transfers
E-wallets
Certified cheques
Although the methods from above are quite enough, no bank cards are accepted. This makes the usage somewhat difficult for non-Canadians because of the expensiveness of transfers. Moreover, only accounts that are registered on your name can be used.
There are no fees for most withdrawals and all deposits. However, you will have to pay a specific sum for using wire withdrawals and the payment processing can take more than 3 days.
Fees at Questrade
After detailed analysis of all the commissions charged by this broker and the comparison with other companies, we have made a conclusion. The fees at Questrade are ranked below average. For instance, working with the EUR/USD pair will have a spread of 1.7 pips. If mutual funds are used, the commission is $9.95 per trade.
For more information about the current fees, it is recommended that you visit the broker's website.
Please note that there is an inactivity fee which is quite high. If less than $5000 CAD is available on your account and no trading operations have been completed for the last quarter, you will have to pay $24.95 per quarter. However, it is inapplicable for forex and CFD accounts.
Customer support
The customer support at Questrade can be contacted via live chat, phone, and email. The replies are usually fast and professional. We have tried to contact an agent several times and each reply took several work hours.
However, a major drawback is that the customer support does not work 24/7. It is possible to use the live chat and phone service only during weekdays. Although this has a point, it is somewhat uncomfortable for users who need urgent help. We recommend checking the FAQ because it might have some useful tips about your issue.
Customer reviews about Questrade
When we read the reviews about the service on the web, we were somewhat surprised by the fact that they are mostly negative. According to Trustpilot, only 7% of the reviews were "Excellent" and 40% were "Bad". On Forexpeacearmy, the average rating score was 1.6 out of 5. Let us see what the clients write.
A user with the nickname "Nick" writes that he is extremely disappointed by the way the customer support works. When he set up his account, everything was okay, but to keep in touch with the support it is required that you constantly type something in the chat window. Otherwise, the system will kick you out. He couldn't get help from the analysts because the system constantly kicked him out.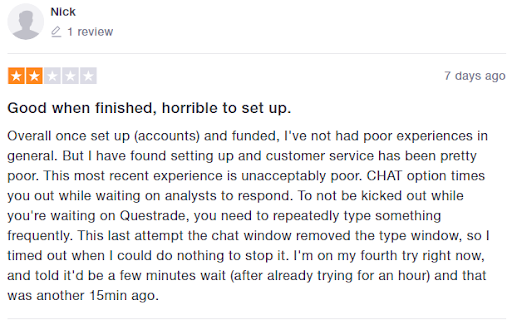 Another user, "RichN", writes that his stop order did not work. When he complained to the company about it, the blame was put on the NYSE exchange market. However, RichN writes that he has been working with an alternative broker and there were no similar issues there. Because of this and other problems, he decided to quit the service.

As you can see, the customer reviews about Questrade are very poor and this means that the service here is not good enough. We recommend that you remain cautious with your funds and do not keep all eggs in one basket.
Final thoughts
At the very beginning, Questrade seemed to be a decent broker with trustworthy regulations and affordable fees. Nevertheless, when we got to the user reviews, the tables turned. It appeared that there are many pitfalls like stop orders that do not work, issues with contacting the support, and many others. We recommend that you remain cautious and do not trust all your funds here.
What about your experience with this company?