Pepperstone Forex broker: Features review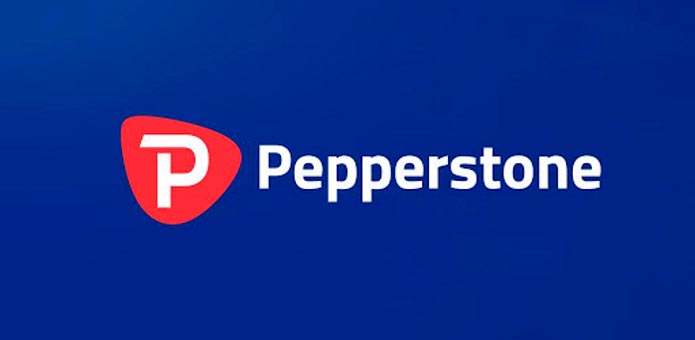 Pepperstone boasts a lot about having technology, comfort and abundance of features. They are especially proud of their customer service, which is displayed everywhere so much, you start wondering if there is anything else to this broker besides the customer support service.
But there is, and all these features are actually very well-developed. Their capabilities and tools aren't unique per se, but there is something to learn and use for different levels or styles. Let's go over just a few of them to give you the general idea of what an average Pepperstone experience might be like.
Asset variety
There is a fairly good assortment of different asset types you may invest into. There is an especially sharp focus on CFDs ('contracts for difference', which allow you to sell or buy an asset in a designated time and for a designated price under different conditions). Trading on CFDs can be quite profitable if you know how to use it.
Currently you can trade these types of assets on CFDs:
Indices. This mostly means stock, but at a more advanced level with more parameters.
Shares. The list includes shares mostly from American companies, but it's hardly a loss, unless you've come here to trade a specific company outside the US.
Forex. Currencies can also be traded via CFDs.
Commodities. Gold, other precious metals and rough resources can be sold or bought via contracts as well.
Cryptocurrencies. They mostly have the popular coins, like Bitcoin, Bitcoin Cash, Ethereum and others.
All of these assets can also be traded as usual, without any agreements or contracts. It's much less fun this way, but everyone should be allowed to trade in the manner they prefer.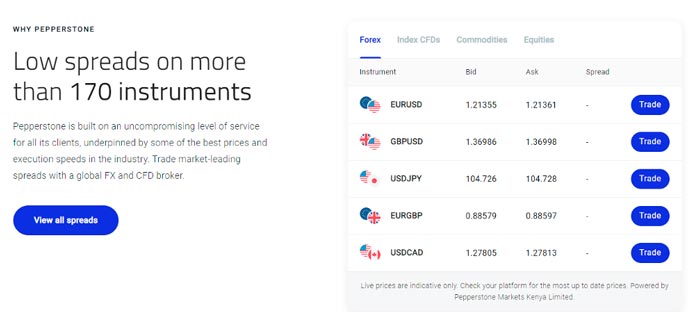 Education
The learning content is essential for any self-respecting broker. It's now considered a bad taste to not implement at least some informative articles inside your trading hub. So, Pepperstone, of course, has an extensive library fit for brokers of their caliber.
This library consists of guides, articles, videos, webinars and specific tutorials to help you trade Forex and CFDs. The latter is especially relevant, because this sort of trading is not really entry-level, it requires some homework. Given how Pepperstone cares about their CFD instruments very much, it's good that they have special CFD-dedicated materials.
But these are mostly for beginners and amateurs. This section contains several tools designed specifically for the more advanced traders. These include the economic calendar, market news and market analysis.
The first is a list of the latest events in world economics. They are designated by the country of their origin, their influence and so on. These look neat, although it's not exactly clear what they influence exactly, not for the entry-level at least. Apparently they expect the advanced users to understand it without deliberations.
The second and the third are mostly just blog posts, but the former is explaining something that happened recently, while the latter may be about anything, including the long processes that started ages ago.
Technical features
In terms of their approach to trading itself, they don't have any unique tools, but they rightly implemented all the effective tools and provided some variety so that people could pick their own style of trading.
For instance, there are 3 options of a trading platform:
MetaTrader 4
MetaTrader 5
cTrader
The differences between the three of them aren't too important now, but it's good that you can pick one of the three most popular trading platforms to fit your specific approach.
There are also tons of tools to help you along the way. There are currently 5 of them, and they basically just relieve the strain. You can do without them, but it's great to turn them on once in a while.
Some allow you to manage your positions better, and the other let you keep a closer watch on the coming market movements, which can definitely reduce your losses if you can read the signs properly.
You can attach more instruments to your trading platform of choice, but these are the base tools you can enjoy and plug in without much effort. Very good for the beginners, as this is pretty much a starter pack.
Fees
Pepperstone is fairly liberal about their paying policy. There are no depositing fees, as on other legitimate brokers. There are, however, several quirks regarding the spreads (virtually the only sort of commissions charged on this website), as well as the withdrawing fees.
When it comes to spreads, you can see several averaged numbers attached to the most available asset on the dedicated spread table. However, this information is pointless. They don't give you the minimal and maximum amounts to understand how much the spreads can vary. And that's just half the pain.
The spreads do vary a lot, especially around gold (as many reviewers have reported). They can change to as much as 100% of their size, and even beyond. Nothing indicates strongly enough just how sporadic the spreads can be here as the fact that you can't even deduce how sporadically they change.
In terms of withdrawing, you can do by many different means, including a lot of major global banks (applies both to withdrawing and depositing). However, most international bank transfers require you to pay an initial fee of 20 AUD (Australian dollars), which is about 15 USD.
This is mandated by the Australian government, in whose jurisdiction Pepperstone is located (they are Aussies), so it's non-negotiable.