Oanda Forex broker review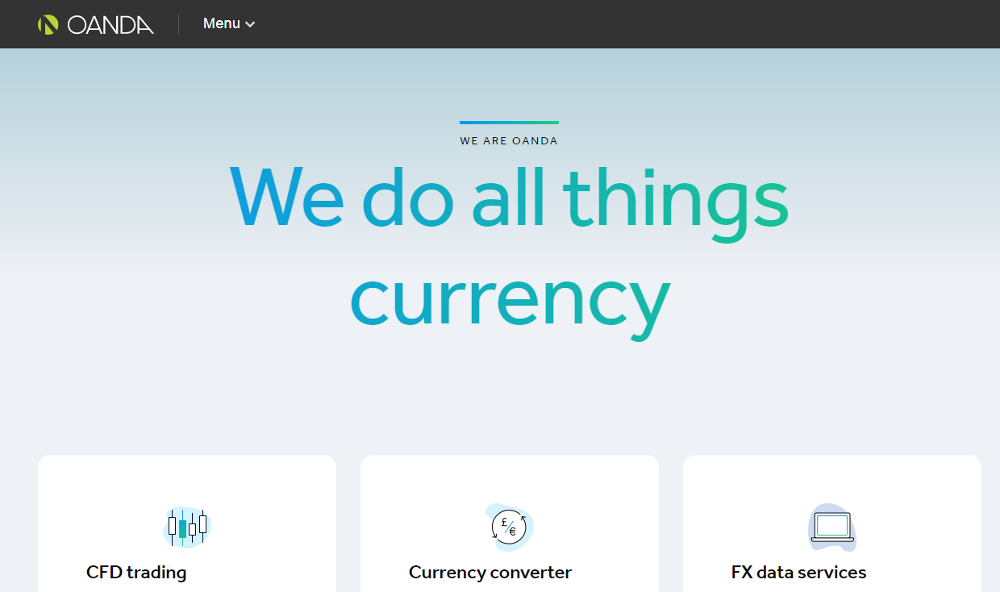 Oanda is one of the old men in the industry. They've been around since 1996, and, unlike many corporations that claim have been in the business for a long time, they really were working online for that entire time. It's also one of the fairly big names in trading sphere, and you might've heard about it before.
But when you actually visit the website of Oanda, you may get a bit disappointed because this company doesn't offer a whole lot in terms of features, content and unique possibilities. And the available content is stored so compactly that your mind can boggle at the sight of how little there is on their front page.
The quality of this content can be deduced from personal experience or (in this case) from other people's experience. The user reviews can help you understand the concept of the platform without actually starting to use it.
But before that, let's talk about Oanda themselves for a few moments.
What is Oanda?
As mentioned, Oanda is one of the big names in trading industry. They have been active online since 1996 (and still going). It means that they may lack clear vision on the newest developments in the industry, as well as new tech and other innovations. The reviews will tell, ultimately.
There are several key trading destinations you can choose working with Oanda:
CFD Trading – a type of trading based on price speculations and supported by the contracts between the broker and the trader
Currency conversion – an exchange that lets you convert your money from one currency to another. You won't only find the most popular currencies, but also pretty much every stable currency of the world (no crypto, however)
FX data services – this little library allows you to browse through historical and current exchange rates, good for research
That's pretty much it for the practical content. It seems that Oanda tries to achieve quality over quantity of services. It's true that their converter (a bit of an old-style synonym for a Forex exchange) and their CFD services are very extensive and rich in options.
Additionally, there is a fairly decent educational chapter on their website. In order to access it, you'll have to go to the bottom footer and click 'learn'. There, you'll be able to learn about tools, strategies and types of trading through webinars and reading material.
It's also worth noting that there are 4 major platforms for trading Oanda's CFDs:
Oanda Trade Web
Oanda Trade Desktop
Oanda Mobile Trade App
MetaTrader 4
It's a good selection for all sorts of trade approaches. They claim to execute all operations in just 0.012 on average, by the way. As for currency conversions, you won't need additional software to make a converting operation, just an active account.
The rating
Oanda has some issues in rating department. Two of the largest Forex user review aggregators (FPA and Trustpilot) rate Oanda at 2.8/5, as of October 2020. Yes, both platforms have virtually identical results, and it's intriguing. At the very least it means that the Oanda Co. doesn't interfere with user feedback, otherwise the results would be weirdly polarized.
But let's see what could upset the users so much.

The advantages
There are several pretty prominent advantages, though they get somewhat overshadowed by the problems the users speak of.
Both in terms of withdrawal and inner transactions, Oanda can boast a very fast execution. It's crucial for both purchasing operations and withdrawing. To purchase or sell an asset for the price you want, the execution shouldn't freeze, lag or show incorrect data.
Withdrawing is another big problem, most exchanges can't deal with withdrawing for some reason, that's why it takes on average several weeks for the transit to arrive at your bank account. Sometimes they don't even arrive. Well, not on Oanda (mostly).
The data charts here really catch your eye. The platforms may have fast execution and other perks, but the good charts are a unique bonus. Not many platforms have quite the same quality of research material and historical data. You can browse through said data and make your own research that will also be practically applicable. Isn't it wonderful?
The disadvantages
There are two major disadvantages: one is dubious, because some reviews still claim the opposite, while the other is probably true.
That's the former category. The support is presumably poor because some people still get helpful advice and insight from the agent, but a lot have negative experience with this broker. This includes: long waiting time, deceptive tactics, refusing to help, and a lot more. Generally, if there's a hint that the company provides poor support, it means you should bail it.
The owners manipulate the markets
Market manipulation is nothing new for the industry, but there's still doubt that Oanda is really as bad as they paint them. Still, Oanda reportedly influences market prices, spreads, margin terms and more without consent or sometimes even acknowledgement by the user. It's terrible of course, but there is evidence that it may not be as bad.
Conclusion
The reason why the disadvantages featured here may be exaggerated is that there are obviously lots of fake negative reviews on Oanda review profiles on both platforms. Some are simply copied and pasted text about 'scam' that apparently happens on the website. And in the bottom there's usually a phone number or an e-mail address.
Undoubtedly, Oanda probably practices fraud, but not to the point described in most of these negative reviews.
In the end, if you like the company, can keep track of suspicious activity and know how to deal with it, you can try working here. Otherwise, don't risk it, there's plenty more fish in the sea.