LiteForex Forex broker review: Where to start?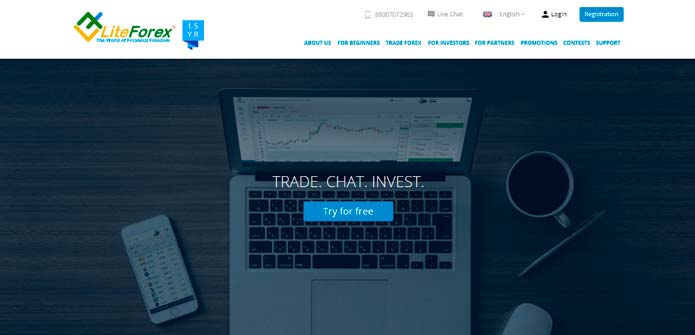 LiteForex is an old broker with a lot of things to offer. They have accumulated a decent reputation, but it's also been riddled with many problems regarding the money returns. They are trying to solve them whenever one appears, but the complaints just keep mounting.
They are still a very interesting candidate. If this one statement wasn't enough to sway you (which is commendable), you're welcome to get a closer look at them and see if whatever they have to offer off-sets their problems.
Let's look at both.
What do they have?
Their menu is a bit confusing – the text is just stacked incomprehensibly and if you aren't familiar with the usual architecture of these websites, you may be lost quite easily.
Let's start with the products first. There are thousands upon thousands of assets divided into several categories, including:
Currency (Forex) – they don't just have the prominent pairs, but also the minor currencies in different combinations, which gives a lot of room for creativity
Metals – the four brands of gold & silver are available here (including XAU, XAG, XPD and XPT), all redeemable for $$$
Oil – the crude American and British Brent are up for the trading
Indices – the selection is very rich and goes beyond simple NASDAQ and S&P 500 packages
CFDs – from NYSE and NASDAQ
Crypto – there aren't many unique coins, but all the essentials are here, which is more than enough for most people
So, the asset selection has a fairly good dose of variety, especially for the Forex and index markets. Naturally, you won't be able to trade anything for anything, but that's enough to create a unique and effective strategy – especially since you have a good share of tools to help you out, too.
Instruments
LiteForex has a lot of software to assist you besides the simple MT4 and MT5 platforms (which in themselves can be modified as well). The collection can be divided into two groups: the calculators and the analytical data.
The calculators include the usual Forex calculator, the Fibonacci calculator and the currency rates to support your calculations. Very basic, but it's never bad to have them under the same roof as your actual trading tools.
The other part is the analysis material, which includes the calendar (a collection of the recent economic actions and how they may or already have affected the markets), news (a more in-depth take on certain events) and the 'analytics' (for specific markets and trading pairs).
As you can see, they could be grouped neater and with more sense. It's still all very helpful, considering they update each of these sections daily (if not hourly, in some cases).
There are no 'electronic' solutions, but you can always implement whatever tools you find online into your trading platform here, since MT5 and, even more so, MT4 are extremely customizable.
Account Types
There are two main types of account, but you get all the same tools and virtually the same features whichever of them you pick. But there is still some difference. The account types are:
Classic. A usual type that doesn't charge commissions for any action (be that trading, withdrawing or depositing of funds), except for the crypto trading. Instead, they charge spreads. They can float precariously from 1.8 pips and further.
ECN. The ECN technology basically means you have a better connection with the end exchange, and the broker only provides the place for you to trade and this system. The spreads are as low as 0.0 pips, but instead this type has commissions (as low as $0.5) for trading, although also faster execution.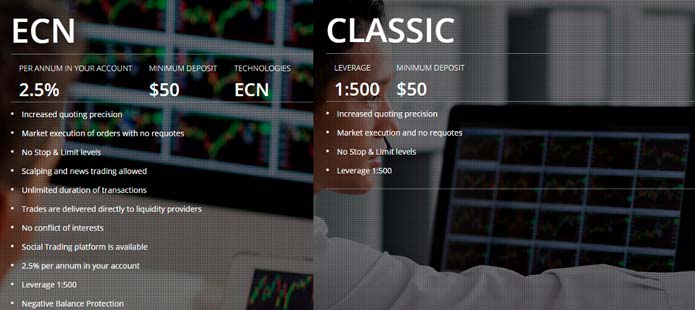 On both of them, the minimum deposit should be $50, and the leverage, trading platforms and the size of the orders stay the same. Everything largely stays the same, except for some minor changes.
And, as mentioned, you don't get charged for the withdrawals or deposits of money. The banks do charge LiteForex for all transactions, but they don't extend the fees to you – they cover these themselves. That makes LF a very affordable candidate.
Controversies
Regardless of all these benefits, certain controversies constantly surround this provider. The complaints mostly surround the subject of money returns. Sometimes the withdrawn funds vanish or the request to withdraw them gets denied for no reason.
Usually, it's a clear sign of scamming, but it's very likely not the case here. Alternatively, they are smarter than usual untrustworthy brokers, because they don't just ignore the complaints and do nothing when the problems start. They actually try to fix them.
You can see the log on Forex Peace Army (the Forex feedback platform) – the CEO themselves got involved at some point. The money is often returned, but having to deal with it all is infuriating.
It's not like their client support is poor – they help to the best of their abilities. It seems like the broker is simply overwhelmed when it comes to processing withdrawals.
In conclusion
Again, the money usually gets returned to you, but unless you're fine with at least ½ of your withdrawals to break (which leads to waiting and deliberations), LiteForex is not for you.
Otherwise, the broker is fairly efficient. The only real technical flaw they have is the confusing menu, and you get used to it pretty quickly. It's very affordable and lets you be somewhat creative with your trading.
In the end, you could always look through the broker on your own and see if the things they offer you there intrigue you enough to give them a shot.