LimeFX Forex Broker: Benefits Review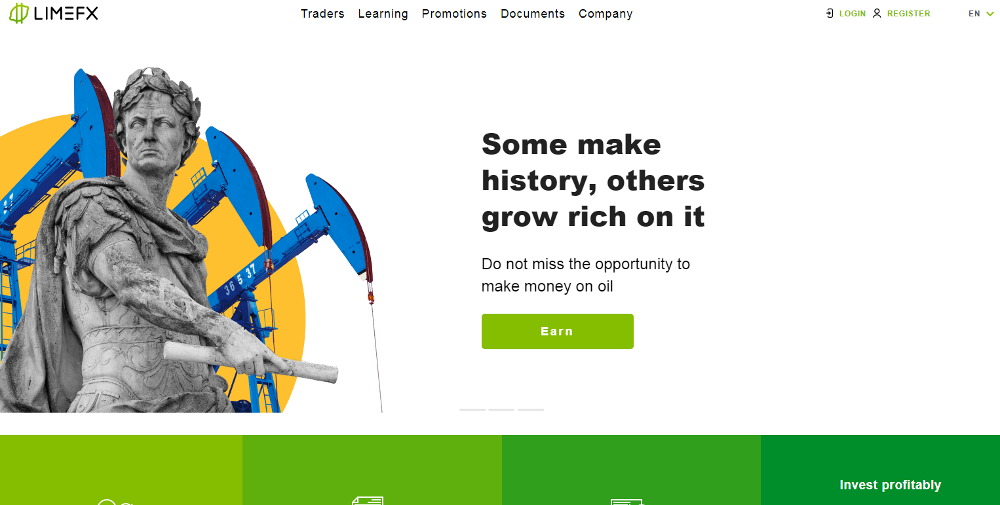 LimeFX is a Russian Forex broker with not a whole lot of reputation to speak of. It is decent enough, but you can't really understand that from the user reviews left by people who dealt with them already. It's because there is virtually no feedback. Again, it doesn't have much of a name.
But it should, because it's pretty decent, all instruments and features considered. It doesn't fall short of most of the bigger exchanges, and, in some cases, it has much more to offer.
Let's see what benefits they have to offer and then proceed to the list of things you should note before signing up.
The types of account
LimeFX is one of the brokers that decided to implement an account type system with different levels of initial deposits. It means you'll have to deposit some amount of money before being able to trade, but it also means that the more you deposit the bigger the rewards get. Here's the list of the types:
Mini – the $500-$5000 deposits
Standard – the $5001-$7500 deposits
Silver – the $7501-$10000 deposits
Gold – the $10001-$25000 deposits
Platinum – everything above $25001
They all have their according perks, and you can swap between the accounts at any time. All you need to do is deposit more money, basically. The good news is that LimeFX doesn't put limitations on your trading routine if you have a lesser type of account (like some other brokers do).
You basically get privileges like faster withdrawing or the help from a professional analyst. The fact that the broker doesn't simply take away your ability to trade Forex, for instance, unless you sign up for the VIP account, is good. It means you grow with your profits, which is fine.
The instruments
In terms of the actual trading, however, LimeFX has a fine selection of assets, as well as a few very good choices for a trading system.
The variety of assets for trade is pretty normal. There are 4 major types, they are available right from the start, and you can comfortably trade in each of them. Note, however, that this platform is dominated by CFD. If you don't feel like trading, it's probably not the best place for you. Right, the assets include:
Thousands of stock types, including those from the largest companies
Many Forex trading pairs with all the global currencies and more
Commodities, including oil, precious metals and so on
Indices, which are different ready-to-go groups of assets
So, it's a modest selection – no worse or better than what you'd usually find on the broker platform like this one.

Software
The asset selection is only half the issue. There's also a question about trading software. Different sorts of software can solve different issues and improve your experience accordingly. The science has gone so far that you can automate your experience, make accurate predictions about the price and also trade through a highly-detailed API.
As for the latter, LimeFX offers three trading platform candidates for you to pick from: XCritical, MetaTrader 4 Web and MetaTrader 4 proper.
They are basically different interfaces with different parameters, focuses and tools. If you are still a beginner, you're advised to try MT4, as it's the simplest and also most highly customizable amongst the platforms. The difference between the Web version and the 'desktop' version is slight. It's just a matter of where you access your MT.
Lime also provides the Economic calendar, which is basically an app that shows you all the recent news and events that may or already did affect the market at some capacity.
It's very beneficial for you if you decide to trade news here (and you should, because keeping track on the news is a good way to increase the profit in a non-technical way.
So, in terms of technical prowess, LimeFX is pretty good. They give you a variety to pick from and also let you analyze the market by yourself.
Customer support
Client support is a very crucial part of any brokerage provider. It's a finance-related platform, so obviously you'll absolutely need help if something goes wrong even slightly.
In addition, you'll probably need some questions answered before jumping into the actual trading. That's the second main purpose of the client support, and they should be good at that.
It's hard to tell because of the lack of feedback, but customer support seems to be in order. If it wasn't, there would be tons of complaints, but it seems that LimeFX is able to provide adequate customer service.
However, the problem of having barely any reputation stands. You should be really cautious – don't deposit a lot of money at a time, look for the red flags, see how long it takes for them to answer your pleas, and, finally, notice the length of the withdrawing process.
If it's overly long (more than a week), you may reconsider working here. It's not only because it would probably be uncomfortable for you, but also because long queues make an excellent environment for money theft.
A lot of brokers simply don't bother withdrawing your money, they simply don't do it and wait for you to leave to close your account and take the funds for themselves.
So, don't trust blindly during the first month or so.
In conclusion
Well, LimeFX is almost boringly alright. It won't give you any special bonuses (not in comparison to other brokers). There are some interesting solutions, but they are minor in the grand scheme of things. It doesn't mean that this broker is bad, however. The fact that it's alright and probably isn't a scam is very good news.
But still, be cautious for the first couple of weeks, because there's virtually no feedback for this broker. If you leave a complaint about them somewhere, you may be the first to do so, actually.