Lexatrade Forex Broker: User Reviews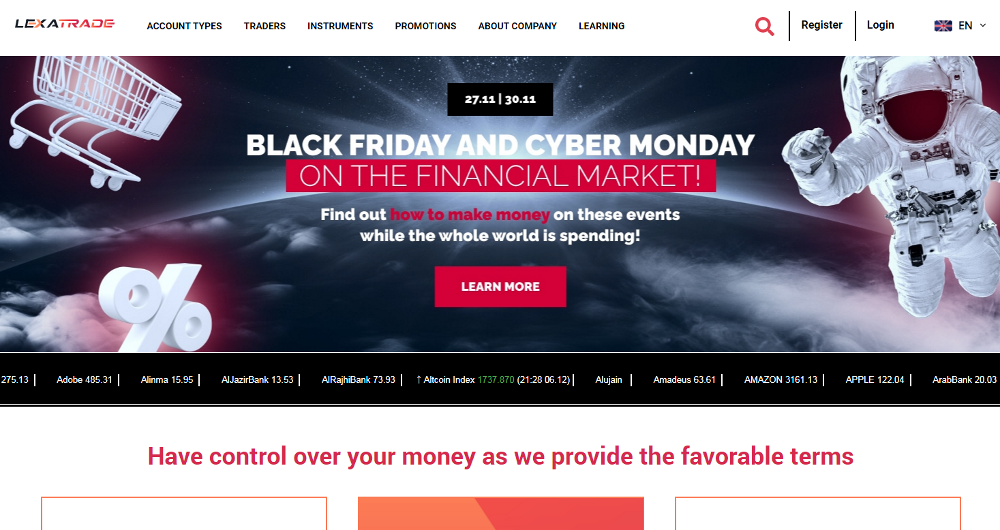 Lexatrade is an interesting choice for a trading platform. They have some very interesting ideas and offers, but it's also understandable why so many people are pushed away from this broker.
At a first glance, there are many potential flaws and perks, but you can't really tell how they play out unless you try this platform for yourself. But then, if you chose poorly, you can lose your money to an untrustworthy broker. Here's when the user reviews come in handy.
The impartial user reviews from the dedicated aggregators can tell you precisely what to watch out for and what to aim for on any exchange. Given it has any feedback, that is.
What is Lexatrade?
Lexatrade has quite a few impartial reviews, but it's important to remember that it's also a fairly small broker, at least compared to the established leaders in the industry. It allows Lexa to do their own thing without bearing too much responsibility on their shoulders. That has a dark side, as well as a bright one.
But right now, let's see rather what this broker has to offer. There's a nice selection of assets to trade in, but because of the circumstances listed below, the beginning users will be restricted to these:
Foreign currency
Crypto currency
There are also indices, stock and commodities, but you'll have to unlock them first. This restrictive policy is extended to other things also – the better parts of the broker are reserved for the more well-off customers. That's the main issue. But there are also benefits.
Let's go over them.
The user rating
The users mainly leave good reviews about Lexa, that's why the rating is often about 4.5/5. Nevertheless, there are some crippling flaws, and to understand why Lexa has such a high level of approval by the actual users, you need to understand the balance of flaws and perks.

The disadvantages
Lexa doesn't really have any problems, only questionable policies. Keep in mind: most of these are relative to other brokers and exchanges. That's the shtick, though – there are probably better brokers.
If you want to trade small quantities, you can do it – but be ready for limitations. There are 5 types of accounts, all range by the amount of minimal deposits you can make:
Start – $250
Silver – $3000
Gold – $10000
Platinum – $50000
VIP – $100000
But the more you pay the more bonuses you get. Usually it's not a problem, because other brokers include indulgences like: tighter spreads, lower commissions, and so on. Lexatrade is an interesting case, because the bonuses include things like the ability to use MetaTrader 4, trade indices, stock, commodities, and also learn new material.
So, unless you deposit at least 3 grand, you're stuck with the basest of basics of trading. Furthemore, you also get worse treatment than the guys who put more money into their Lexatrade wallets.
It's not simply about getting less spreads and more monitors on the trading system. Lexa gives you less priority if you pay less. The bigger account types have faster withdrawing speed, and they increasingly get to use the help from professional analysts. The list goes on.
This came out as one big flaw rather than a collection of smaller disadvantages precisely because this restraining attitude is all over the place.
The advantages
If you can tolerate this uncomfortable (in relation to other platforms) state of things, then you may find that Lexatrade is actually pretty decent when it comes to trading and dealing with users.
Fortunately, client support is still available for everyone on the platform, regardless of their status. So, if you have a question or a problem, you can contact the support and they'll most likely help. The only thing you won't be able to do unless you sign up for a better account type is the help from analysts.
And even this is very well done, and the local financial specialists are truly helpful most of the time.
The support itself is also 24/7 and multilingual, which is a very nice touch, considering they are mostly very restrictive about everything.
Tight spreads, zero commissions
And speaking of tighter spreads, they really are low on this platform. It's true, they differ from pair to pair and from account type to account type, but even so they are mostly very tight, especially in relation to other similar exchanges and brokers.
You can see the whole table of spreads. Note that some of them are fairly high, but that's precisely why there is such a detailed sheet – so you wouldn't get caught unawares.
It should be noted that, although they confine you to the poor conditions when compared to the usual exchanges, they also rarely cheat you. That's one of the main reasons why there are so many good reviews.
There are just so many frauds amongst brokers that an honest one, albeit one with poor trading conditions, is somehow very welcome.
They also give you all the information they can about the way your transfer will go. So, that's nice.
In conclusion
If you really want to trade on Lexa, the best approach would be to trade on Start for some time and then, once you've grown to trust this broker, switch to the better account options. If you don't, you'll be very hard-pressed, and your entire experience here will be pretty lousy.
It's pretty comfortable to work here, barring all the treatment the lower account types have to put up with. Yet still, there are many exchanges and brokers that give you just as comfortable an experience without making you pay extra.
The choice is still yours, however.