LegacyFX Broker Review: Is it a good choice?
LegacyFX is a broker from Vanuatu that was registered by the AN ALL NEW INVESTMENTS (VA) LTD company. The brokerage service has been working since 2017 and offers a huge number of assets to work with. It seems to have a good reputation on the market, but is it really that good? Read our LegacyFX review to find out more!

About LegacyFX
As we have already said, LegacyFX was founded as a broker in 2017. It has already more than 3 years of experience and has gained the trust of many traders during this period of time. It is not a surprise as the company is regulated by CySEC, MiFID, VFSC, BaFin, FCA, and the NBRB. These are reputable authorities that only work with legit brokers.
LegacyFX has received many awards during its operating time. For example, in 2019 it was awarded the best Middle East broker by DailyForex. According to PipsoFX, it is the best brokerage company in 2019. It is possible to find opinions of many trusted trading resources about this company on the internet.
The company has its head office in the Republic of Vanuatu and works from Monday to Friday from 8 am to 0 am. You can contact the office by email or phone, choosing an option that suits you best.
In some countries, the service is unavailable. These are the United States, some Canadian provinces like British Columbia and Ontario, North Korea, and other countries. Keep that in mind when you create an account here.
What can you trade with LegacyFX?
The company provides an enormous number of Forex pairs, indices, stocks, and commodities to work with. An important issue here is that LegacyFX provides support for the safety of its clients' funds.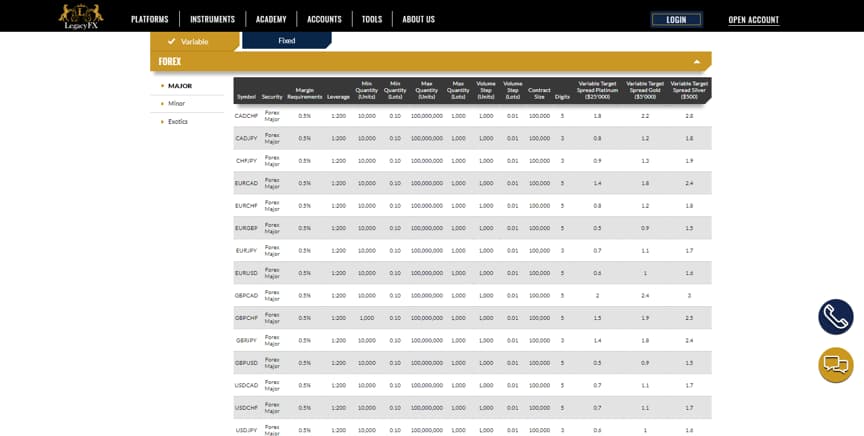 The screenshot above shows a part of the available trading assets. As you can see, they even have comfortable terms like a commission-free variable target spread of 0.6 pips. This is a competitive term, and not many brokers have such low fees. More information can be found on the LegacyFX's official website.
Trading platforms
LegacyFX only works with the MetaTrader 5 platform. MT5 is a powerful and easy-to-understand software that is trusted by many users for a very long time. It has earned a good reputation because of its user-friendly interface, simplicity in the usage of trading tools, detailed analysis, and availability on all sorts of devices.
For instance, with LegacyFX, it is possible to trade on desktop and mobile. You can use Android or iOS devices. A web version is also available without a need to install any additional programs on your devices. This is a great advantage. It is very comfortable to use.
Trading instruments
There is a big number of available trading instruments. You will not find anything special here, but there will be basic instruments that are used by nearly every brokerage service. The MetaTrader platform supports third-party add-ons, so you can add something of your own if needed.
Deposit and withdrawal methods at LegacyFX
There are only two deposit methods that users can select to top-up their accounts:
Credit or debit cards
Wire transfer
However, there are some limits. Your deposit should be at least $500. It also cannot be higher than $10,000 per deposit.
The withdrawal options include only two options:
Wire transfers
Bank wire transfers
As you can see, the broker does not have that many options when it comes to deposits or withdrawals. However, at least these are some standard options, not no-name online wallets.
Education
On the LegacyFX website, there is a section that is completely focused on education. We can find there a huge number of tutorials that discuss different issues that can be encountered by beginners and professionals. You can complete a crash course on trading by simply watching each tutorial and reading the eBooks.
What is really cool about LegacyFX is that it provides a detailed course that introduces users to trading and covers Forex and social trading together. There are courses that dive into the industry and explain even more complex features.
The eBooks are another important part of the education section. Thanks to them, traders can learn from any place: public transport, home, while traveling. The topics cover money management, trading psychology, market analysis, various strategies, and more!
User opinions about LegacyFX
There are many positive and negative reviews of LegacyFX. However, it is important to note that the major part of satisfied customers does not leave any reviews at all. People usually tend to share their opinion only if something negative has happened.
Here is a review from Kaheldoo, a trader from Bulgaria.

He says that he is not a good trader, but he has spent three months with LegacyFX, and now his weekly profits make up from 5% to 8% of his investments. He likes the simplicity of the platforms and how the account manager has helped him.
Here is another opinion by Leon Thomson.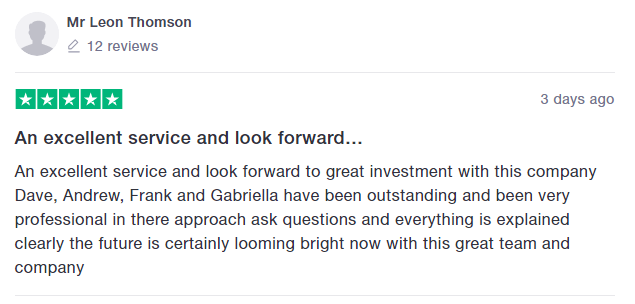 He notes that the service was a great experience, and the managers helped him a lot in his trading experience. The managers have explained to him everything he asked about in a clear way. He liked it very much.
Conclusion
LegacyFX is a brokerage company that is regulated by many regulatory authorities and has a huge number of reviews on the Internet. It has low fees, uses the MT5 software, provides useful educational materials with video lessons and eBooks. You can work with many various assets with this company including Forex, stocks, and others.
What was your experience with this company? Let us know in the comments below!