KVB Kunlin Forex broker: Thorough Review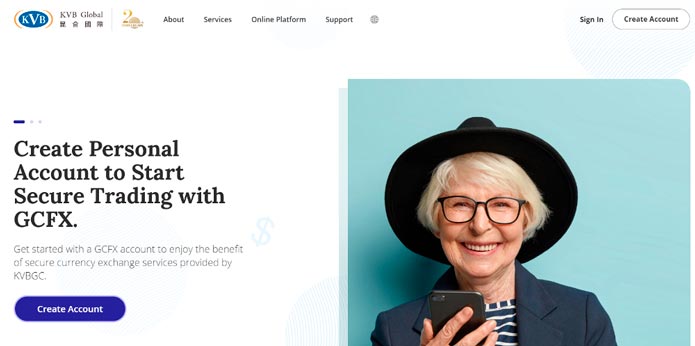 The few full-fledged Forex exchanges Hong Kong had decided to rebrand gradually, and now you'll be hard-pressed to find one that operates from this city. KVB is one of the few that remain, but it's almost unknown – especially to the world outside of their home.
KVD has its uses, but it's pretty difficult to understand whether they are worth using. They may be a scam, for all you know, because there are virtually no true customer reviews about this establishment.
But let's try our best with what we have, analyze the broker and see if their uses outweigh the trouble you'll have working with them.
Products
KVB has quite a few exchange pairs. They support ten major currencies from some global economics (the emphasis is of course on the Eastern region) and exchange them on market value. This includes:
Chinese Yuan
Japanese Yen
Canadian Dollar
American Dollar
Australian Dollar
New Zealand Dollar
British Pound
Singapore Dollar
Hong Kong Dollar
In short, they support a lot of key Asian currencies as well as other currencies with unquestionable value (like CAD, USD or GBP). Their specialists also speak a lot of languages, English being one of them, and they support international bank transfers and some key electronic transfer services (although, no Interac, sadly).
So, if you absolutely need to trade with a broker from Hong Kong, KVD would be a good candidate, for the described reasons. But what exactly could prompt you to use a Hong Kong broker?
Why you might consider working with KVB
Obviously, if what you want is a simple comfortable experience that involves trading internationally valuable currencies, you can do it without KVB. There are plenty of other brokers who have more-or-less clean reputations and more perks. KVB is a specialized choice for several specific occasions.
Access to Chinese markets
Chinese Forex markets aren't very accessible to work with (for other brokers). For instance, the Australian brokers don't always have access to the Chinese banks, funds and exchanges because it's just not worth it.
If you want to access these markets because of some lucrative price movement in this specific area or if you want to make use of the gigantic user surge that accompanies the local exchanges whenever they open, you have two options.
You can gain access to one of the Chinese brokers, but it may be difficult because many of them simply don't support the English language properly. If you don't want to learn Mandarin, you'll have to find a broker that speaks English, has connections to the Chinese markets and supports international means of money transfer.
This is where KVB comes into play. They fit all of these categories. Their specialists are reportedly fluent in several Chinese languages as well as English (Hong Kong having been a British colony not long ago).
So, whenever you want to access Chinese markets, you'll just have to wait until their opening hours and ask KVB to process some of your orders. It can be very lucrative, because the liquidity increases dramatically for a short while (due to user boost) and you can actually gain money from the movements on the Chinese market.
There are brokers that support the lesser known Asian currencies (like the Singapore and HK dollars, not the Yuan and Yen), but these are scarce, and the spreads on them may be very wide due to low liquidity. Here, the liquidity on these currencies is much bigger and the spreads are much tighter because you access the home market.
Here, these currencies have more value. As a result, you lose less money on spreads. Naturally, it's the good news if you don't take into account the base spreads here. You can't really know the spreads on all trading pairs here. They just don't show it.
They do show the difference between average bid and ask numbers, but only for the twelve most popular pairs that only include CAD, AUD, USD, CHN, JPY and NZD.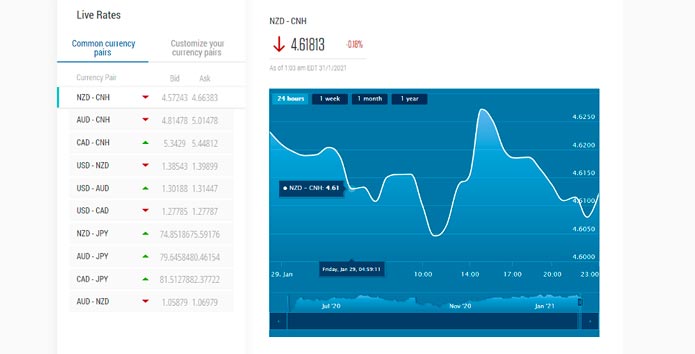 So, the spreads can be very large or not, this uncertainty doesn't add much to the comfort of working with this provider. There are no reviews, so you can't even know from other people's experiences.
Disadvantages
Apart from the already mentioned lack of currency parameters, this broker has several crippling issues:
No MetaTrader 4 available. It seems that you can only trade using the app they have here. It doesn't only imply the absence of a very intuitive interface, but also of tons of tools you might install on MT4 to make your experience better.
There is no information about them. You'll basically go blind if you try to trade with them. You may get a fairly good trading experience, or you'll be scammed. You can't even anticipate whether the spreads are going to be wide or not. You're highly advised to not deposit a lot of money here.
So, it's generally a specialized broker that's only worth using in certain conditions. And even then, you'll have to trust them. You don't go empty-handed, however. It seems that their client support exists and they, by all accounts, must speak English.
In conclusion
KVB is effective on several special occasions. You'll want to use it only if you want to gain access to Chinese markets or if you want to gain access to several second-grade currencies from Asia. For all other purposes, it's better to use more familiar brokers. The Australians may even have some access to the Chinese markets, who knows?
It's probably not going to be your primary platform, but it also won't be the worst experience you'll have, so don't despair.