«Interactive Brokers» Forex broker review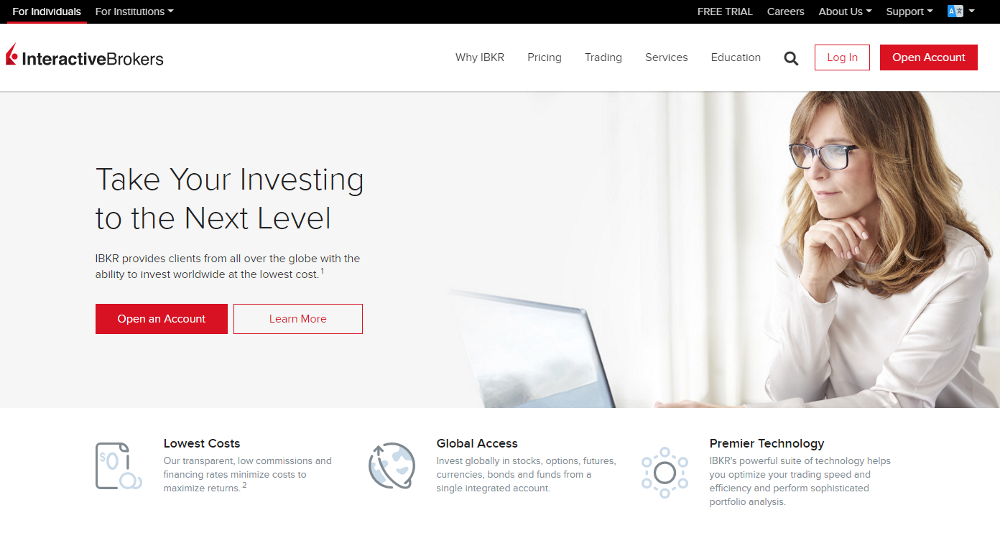 Interactive Brokers Inc. is another big player in the finance industry. This truly massive company has, of course, a broker platform where anyone willing can trade and invest in a lot of ways, hence the name. It's a global platform available in many languages and countries, but in essence it is still a British conglomerate.
IB has a lot of interesting solutions and options for different trading style. There are quite a few interesting features you may enjoy while working with this broker, including all the benefits and perks that Interactive Brokers has to offer, at least according to their words.
The user reviews will tell if they are any good, but first let's see what IB can offer you exactly.
What is Interactive Brokers?
'Interactive Brokers' prides itself on being an international company with subsidiaries and offices in 33 different companies. As a result, there are 9 different languages available for the picking, as well as 23 world currency to be traded on Forex.
Apart from spot currencies, there are multiple other products, like:
Stocks
Options
Futures
Metals
Bonds
ETFs
Mutual funds
CFDs
EFPs
These are available across 135 markets all over the world. And you can actually approach each product with your own strategy that you can devise from the educational part of the platform.
There are several methods you can approach trading with, and also several trading platforms:
Web Client Portal
Desktop Trader Workstation
IKBR Moble
IKBR API – several models of trading interfaces by IB
They are also said to be the 'lowest cost broker', which can't be factually correct. If they are low-cost, however, then it's a very good bonus for an average broker.
But whether this is true and whether they compensate this low-cost policy by practicing fraud or charging some hidden fees, the review can tell.
The rating
IB doesn't do too good in the rating department – two largest Forex rating providers give Interactive Brokers an average of 2.4/5. At the very least the reviews aren't 'influenced' by the broker, because they are virtually on the same level in each platform.
Alternatively, IB does influence both platform but doesn't do a very good job at it. Regardless, let's see why the rating is so low.

The disadvantages
After browsing through countless negative reviews, you can condense the complaints into several comprehensible truths. Here they come.
Customer service is absolutely essential for any healthy broker. This broker has a well-developed customer service protocol, but the problem is that it's non-functioning. The agents are idle and incompetent, the waiting time is abysmal, and the company's first instinct is to lay blame on the user, whatever could've happened.
If you job is to provide people access to the freshest prices on the market and the means to make use of them, you shouldn't have technical issues that cause delays or restrict users from 'enjoying' your instruments or even your platform, for that matter.
IB sometimes simply breaks, the platforms don't let people trade or manage their positions, and the website itself can experience some odd issues like forgetting your personal information or deleting your applications.
This aspect is actually fairly complex and gets manifested in many forms, but there's one general idea behind them all. IB manipulates your money and your assets without your permission, which they shouldn't do, One of the most common tactics of this broker, as it seems, is taking the money away from your mandatory banking account then cancelling your signing-up application, works every time.
The platform is a bit outdated
It must really be the least of your concern if you decide to work with this company, but it's worth noting that most of the platforms offered to you by this company don't have nearly the same technological superiority as other smaller companies. It's not as important because it affects your comfort, and not your financial well-being.
The advantages
To be fair, there are benefits and perks, although they aren't as prominent or numerous as all the downsides.
Their services are truly low-cost, as declared in multiple promotional campaigns. The exact percentage of fees taken from you depends on a lot of things, but it's generally below the average of most global companies. However, you can find cheaper platforms, especially in European region. They do claim to be 'the lowest cost', but don't get outraged over this.
Variety is really the key principle of this website, barring the untrustworthiness. Not only is the platform available in a lot of countries, but it offers a wide range of markets, products and options for trading. You can't underestimate such numbers, even though you may not enjoy them after being scammed (potentially).
Conclusion
The company is called 'fraud' by many. It may very well a scam with all the suspicious money movements and tech problems that can't possibly occur on their own in any self-respecting platform. Many experienced traders would drop the idea of using IB right away, had they heard the world 'scam' applied to it so frequently.
But it's still up to you. The variety offered by this company is pretty outstanding, as is their additional content, like all the educational texts and such. Anyway, thank you for reading this article, and have fun.