InstaForex broker review: Is this brokerage Company trustworthy.
InstaForex has raked up its reputation as an international forex broker with a vibrant user base. It is one of the fastest-growing and wields sponsorship from various economic powerhouses. The firm is fully regulated and operates specifically well in the European Union with global appeal. It boasts of a team of over thirty analysts providing their expertise in forex trading. With a comprehensive trading module and league of data centers throughout the European Union and across the world, InstaForex has helmed itself as a dominant forex broker in the EU market with popular reception. This review explains the features and whether an investment in InstaForex is worth the risk.

About InstaForex
InstaForex became operational in the year 2007 with headquarters in Kaliningrad, Russia, and has grown as an important brand with over 200 offices across the world. They endorsed several sports personalities to enhance their brand name and have remained successful in doing so. The company has a subsidiary arm operating only for the EU market with a head office located in Cyprus. Instaforex comes under the regulation of CySEC and complies fully with the EU regulations. It has been issued different license serving different purposes
InstaGlobal Limited (Saint Vincent)
InstaTrading EU (Cyprus)
InstaTrading Limited

They have a dedicated network of data centers across Europe and the World to provide uninterrupted trading service and information flow. This operational quality makes InstaForex one of the most reliable and fastest trading portals. InstaForex is also the recipient of several awards and accolades, their successful operation for 30 years has earned them an important spot among the forex traders globally.
What can you trade with InstaForex?
Instaforex allows the following category of assets to be traded using their platform.
Currency Pairs
Stocks
Cryptocurrencies
Indices
Instaforex allows about 107 fiat currency pairs for trading along with 33 US stocks. They are known to provide a platform to trade CFDs and coins on social media platforms. They also allow metal CFDs for trading empowered by their intuitive ECN trading infrastructure. It provides five different trading accounts with suitable features, which include a scalping and ECN trading account.
Payment methods at InstaForex
InstaForex supports all popular payment methods, some of the standard ones are listed below.
Bank Wire Transfer
Bank Cards
E-Wallets
Online Payment
The depositing and Withdrawal process is fairly simple and has no charges levied during the transaction depending on the payment method. They also accept Chinese Payment Gateway like Alipay and WeChat. Although Bank and Credit/Debit card transfer may incur charges and typically takes 24 hours to reflect in the account.
Trading Platform
Instaforex supports only the Metatrader 4 trading platform, which is one of the most widely used and stable trading environments. Although it lacks the modern integration features like ECN forex providers like Instaforex should be considering as cTrader dominates the space. They have managed to build a mature and scalable trading infrastructure that can be scaled to mobile devices without any hassles. Customers can avail of the MobileTrader app from respective OS platforms, the app has been well received and reviewed by users which imply the quality for its features. Additionally, Instaforex is also providing a native educational and trading app that guides beginners and displays important trading analysis and live quotes. Instaforex is providing a range of trading tools and products that sets them apart.
Customer support at InstaForex
The website has a dedicated floating button to access the customer care, the icons linking telecalls, live chats and social media handles can be easily identified. They have also provided a knowledge base catering to different issues related to trading, this can help beginners in general. Along with technical support, customer support can be contacted by filling the form to schedule a call and also initiate an instant chat.
Customer Review about Instaforex
InstaForex has received a rating of "3.6" from Trustpilot.com and the majority of reviews come under the "excellent" category. Given the experience, compliance, and user base, customer reviews can help gain insight into technical glitches and red flags that can be avoided. Some of the reviews describe the following.
A user with the profile name "Maria Fenchuk" commended the customer service offered by InstaForex.

Another user with the profile name "Owusu Maxwell" described his unpleasant trading experience, the user was unable to receive the withdrawal to his account.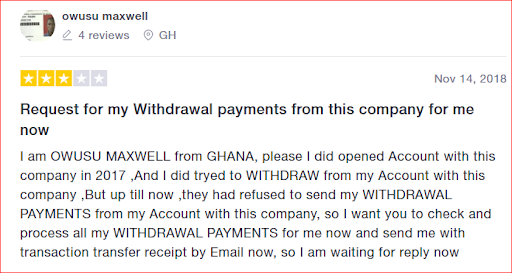 Conclusion
InstaForex is one of the most reputed forex brokers with a good international presence, fully regulated by local and international laws. It has displayed continued growth bettering both clients and the team behind the frim. With a massive load of around 7 million clients, they have managed to maintain an optimum trading ability without compromising on regulation or security of assets and data. Investing in a reliable forex broker has added advantage and Instaforex's customer support can impress a newer crop of traders.