HYCM Forex broker: reviews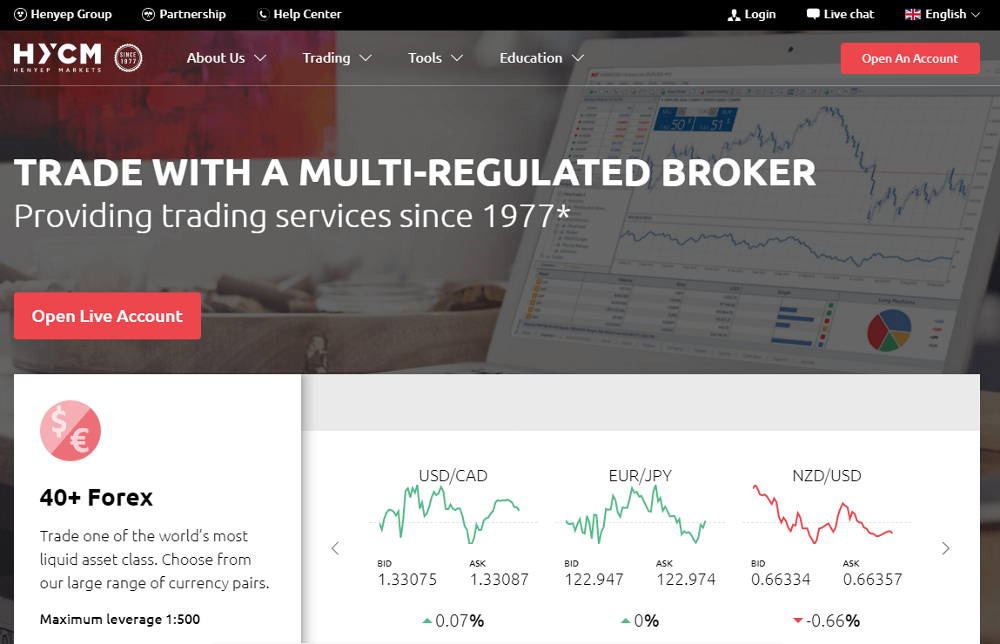 HYCM (also known as Henyep Markets) is a fairly old company specializing on trading of different valuable, including:
Forex
Stock
Indices
Cryptocurrencies
Commodities
ETFs
It's told to be over 40 years old. Keep in mind, however, that it's the company that is 40+ years old, not the exchange itself. The online trading platform under the name of HYCM only operates since 2007. So, don't let yourself be confused by it.
Review-wise, it's not the best platform to entrust your funds to. It has a lot of problems, at least according to the impartial reviews on the aggregators like forexpeacearmy.com and others.
Before we jump to the user reviews and eventually conclusion, let's see what the platform actually has to offer. Maybe the sheer amount of content can win you over, despite all the controversies and disadvantages.
What is HYCM?
HYCM is a Hong Kong company, and it was around since 70s. They build a large portion of their promotional campaigns on the factor of experience. Other companies may offer you different values, missions, etc. Henyep offers you extensive background. The logic is, they won't try to scam or fraud you, thus risking their precious reputation.
It doesn't stop other companies from scamming you, but whether HYCM is a scam is still up to debate. Other features that HYCM say they can offer you are competitive pricing and low spreads. These aren't bad, if true. The reviews will tell.
Long background is still not the worst quality. It's not exactly a benefit, but it gives you some idea of the company. 40 years in business (if not in the online business) means that, at least in theory, they can be more competent than usual.
As of the trading features themselves, the platform doesn't give you too much. Of course, you have both MetaTrader 4 and 5, a large educational library and a wide variety of different valuable to trade in. It's not bad at all. HY won't give you any unique offers, but they aren't modest either. In short, you can find your own trading niche here.
They don't tell you much about their user support. It is one of the defining factors of each broker or exchange. If the support is great, you can let a lot of bad decision go. If the support is poor, then all the disadvantages become even more prominent. On HYCM, however, the service isn't noticeable. It's just there.
The rating
On various aggregators, HYCM's rating usually climbs a bit higher than 3. On forexpeacearmy.com, for instance, this company has 3.2/5 as of September 2020. It's not much. Actually, it's pretty average for an online broker. There can be several possible scenarios as to how this rating came to be.
The platform can either be an overall good experience, or just an OK place to trade. Let's see which category HYCM falls closer to.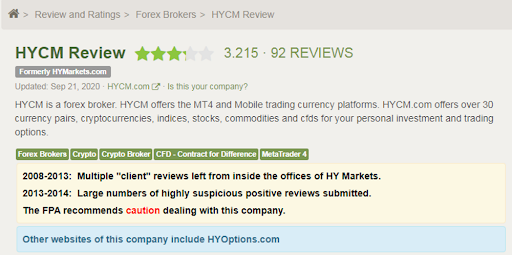 The advantages
Let's first look at the benefits of working with this esteemed platform to see what it can offer. Note that benefits are some exceptionally good or unique qualities or features. If the platform has of lot of simply good or normal features, then it won't have a lot of benefits.
The pricing and spreads are truly good. The company does promise you good pricing and spreads regardless of the type of account or commodity you'll want to trade in. Well, it seems they keep their promise.
The size of spreads on your deals varies depending on the account type you have: Fixed, Classic and Raw. Each type also favors one specific type of trading. Therefore, the choice depends on your personal approach to trading. But yes, the pips can vary significantly:
0.2 pips on Raw
1.2 pips on Standard
1.8 pips on Fixed
If you want to know more about the difference between the types, proceed to the respective page on their official website.
The broker is transparent. It's good when a broker behaves with honesty – it lets you trust them and feel secure about your money. HYCM, however, is not exactly honest. They don't tell you much about their activities, nor do they reply to your complaints and issues with consistency.
However, it must be noted that at least they aren't dishonest. There are problems, of course, but they have (probably) little to do with the consciousness of the HYCM bosses. They don't usually manipulate the prices or the transactions, don't intervene and don't scam people. However, they aren't exactly the apex of trustworthiness.
The disadvantages
Every broker has its disadvantages. In case of HYCM, there are several very prominent of them. Interestingly, there aren't too many of these downsides. There are major disadvantages of working with them, but not too many fundamental flaws.
Withdrawing is problematic. It is a reoccurring problem, but it's not clear why withdrawing your funds (or sometimes even holding on to them) from this platform is so uncomfortable. Chances are, you will manage to withdraw them once or twice, and then there'll be either a very long delay or a mysterious disappearance.
It's not uncommon for a broker, but usually brokers delay or arrest your funds because of security reasons. From all the gathered information from reviews, HYCM can't have a security bias. There are two explanations: dishonesty or incompetence. Either way, they are not very good qualities, considering that some traders accumulate up to $100.000 only to have their savings erased for some reason the next day.
In conclusion
HYCM doesn't give you too many benefits to forget about the dangers of working with them. If some local feature caught your attention – by all means, try the platform for yourself. However, there are countless other brokers with more features and less dangers.
In the end, HYCM is an OK platform, but it's better to consider other options.