FXTM Forex Broker: Reviews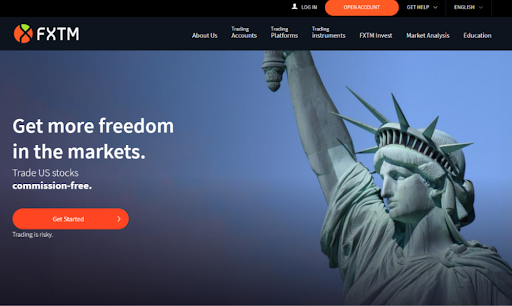 FXTM is one of the most well-known online trading hubs out there. 'FXTM' stands for 'Forex Time', the website has almost ten years of background, more than most of its counterparts. FXTM is a classic example of an online trading brand – it allows you to follow the shares, cryptocurrencies and, obviously, the situation on Forex.
FXTM looks like a great place to start trading. Not only does the brand has a fairly comfortable website (the shabbiness is a dead giveaway that the website isn't completely honest with you), the leadership has a lot of experience maintaining a trading hub, as well as the reputation to support.
Obviously, the title of one of the most popular trading websites out there isn't enough to make it flawless, nor does it make those running it saint. Only the impartial review can tell if the platform is still comfortable and effective today.
What is FXTM?
FXTM is a brokerage provider specializing in leveraged trading. It operates throughout the world, including Asia and Africa. The platform allows you to keep track of the market prices on Forex, commodity CFDs, cryptocurrency markets and more.
The brand has been started in 2011, and it has been expanding tirelessly ever since. FXTM works according to several core principles:
The services are tailored for each trader specifically;
The services are made to be available for each possible environment (including MetaTrader 4 and 5 for mobile, PC or the Internet);
The operations performance must be fast, smooth and not costly;
The users should have a way to hone their skills and learn more about trading
Commission payment on Forex operations is miniscule, a lot smaller than what other platforms charge you. The CFD rates are average for the industry, which is also not bad.
FXTM operates under 3 different jurisdictions:
Exinity Limited
FXTM UK Limited
FXTM Ltd
Keep in mind: ForexTime doesn't extend services in the United States under any of these jurisdictions. It does provide it in Canada, however.
2020 reviews on ForexTime
FXTM keeps expanding: in 2020 it has acquired a number of 2 million constant users – which also provides them with a steady stream of reviews.
The reviews on the websites like trustpilot.com and brokerchooser.com are mostly positive as of September 2020. An average rating throughout the review aggregators is 4.2/5, with 58% of users having given it the maximum number of 'stars'.
The advantages
Based on a large amount of the public reviews, the website's greatest advantages can be summarized to this:
It's transparent. FXTM attracts experienced traders from around the world. Some of them have been scammed before by the smaller and less professional platforms. The amount of websites willing to rid their users of all belongings is astounding. This is why being transparent and 'honest' is one the most appealing qualities a trading hub can have.
FXTM is fairly transparent. It gives its users all the information they need before jumping into action (including commission fees, leverage ratios, and precaution advices). When you contemplate singing up, the plaque appears at the bottom of the screen. It advices against reckless trading, stating that 'your capital is at risk'.
The support is effective. FXTM receives a lot of positive feedback for caring about the users. The review platforms are filled with short stories of frustrated users, who, despite being dissatisfied with the website, managed to get a refund on their initial investment after contacting FXTM support team. It's heartwarming to see such honesty on a trading website.
The learning material is abundant. ForexTime is notorious for letting people learn about the trading. For it, they hold webinars regularly and have extensive articles on trading. It stands in a stark contrast to many similar platforms which choose to keep their users ignorant in hopes that they'll make financial mistakes.
FXTM website has a small feature that has attracted a lot of positive reviews from the users. The 'chat with us' option in 'get help' menu sends you to the live chat page where you can chat the Forex specialists and other brokers and ask about things that bother you specifically rather than look for it on FAQ page.
All things considered, FXTM is a great place to educate yourself on trading and how market works in general, not only to make money. And for that, ForexTime earned sympathy from many traders all over the world.
The site navigation is great. As a relatively popular website, forextime.com is obligated to have decent and friendly navigation. And it does! There are very few ways to get confused or lost on this platform. The main page has several folders with broader subjects (be that articles trading instruments, platforms or trading trivia), and each folder has more folders with narrower subjects, named after their primary topic.
You can change the language by clicking on the language menu in the top-right corner. As of now, there are 18 languages, including Chinese, Arabic, Russian, Persian, Korean and most main European tongues.
To sign up, all you need to do is log in, click 'open account' and register.
The disadvantages
Funnily enough, FXTM doesn't have any major flaws. There are many reviews with stories from people who didn't quite understand why the website took money from their balance, or had a hard time understanding how the website works.
The website is simple. It is, by many accounts, one of the simplest ways to trade on the Internet. Despite the extensiveness of educating articles on the website, it doesn't give you too many directions. Because of it, it's easy to miss something and blame it on the website. The best advice is to read before jumping into trading.
Conclusion
ForexTime is a great system for both the beginners and the experienced traders. Not only does it allow you to trade right away in the way most comfortable for you, it also lets you educate yourself about trading (one of the few big websites that do it to such extent). According to the recent reviews, it's a decent, user-friendly platform.