FXDD Forex broker review: What is there for you?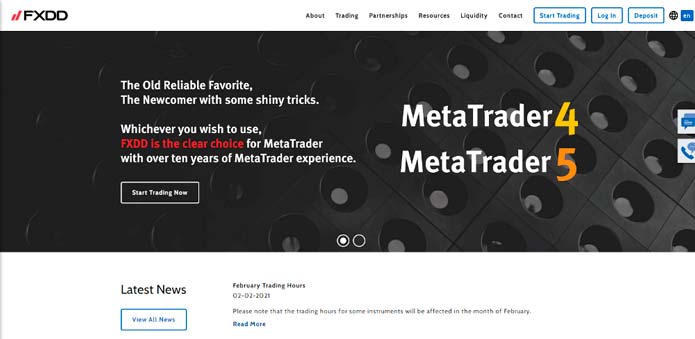 FXDD is an untrustworthy broker with some very dubious reputation. If you value your money, you shouldn't be trading here, but go instead to a more transparent and benevolent provider.
There is a lot wrong with FXDD, but you won't see it until they've swindled you. Coincidentally, your initial impression of them would be very favorable – they have a clean platform with decent requirements for trading.
They are a scam, however, and this was confirmed both by people who keep track of such malevolent brokers and by the authorities.
What is FXDD anyway?
They are an online broker with a long history (17 years on the market), which could indicate a long line of relationship between them and their clients (given how there were over 400.000 of them, as they claim).
The evidence points at the opposite. If you're interested in what they have to offer, you'll likely be frustrated as they actually have a lot of available assets. They are united in several groups:
Forex. The local currency pairs don't just include the big players, like USD, GBP and EUR, but also countless smaller currencies. They are less liquid and more volatile – but such abundance also means more depth and room for strategic thinking.
Metals. Their metal listing doesn't disappoint as well. Most notably, they have gold, silver, platinum, copper and palladium of many brands. It's just 5 of them, but most exchanges actually just offer gold and sometimes silver.
Energy commodities. Gas and oil are just as valuable as metals. There are two types of oil here – the British Brent and WTI (Texan crude). That's pretty much all you'll need, but there could be more.
Indices. These include indexes related to most economies of global importance, like S&P 500 (500 top American companies), GER30 (30 top German companies) and so on.
Stock. The exact list of the shared assets they got is probably somewhere deep inside, but just by looking at what's accounted for openly – they got most bases covered.
In short, they got a neat selection of assets. If not for their many shortcomings (given below), it would be a very good broker with an outstanding selection of assets to trade.
Account types
In order to trade any of these products, you would need one of the two account types. Unlike many other brokers, they don't have a 'gradual access' type of account division, but rather a technical split.
On one hand, you have a Standard account, which means you'll be trading through this broker, and they'll be your mediator with the other side. You'll be paying moderate spreads, but they promise there won't be any slippage. No commission, though.
On another hand, you got an ECN type. In this case, you'll be trading through a more direct system, which connects you directly to the other side, and the broker simply interprets the process of trading between you two. The spreads are generally lower under ECN, but there are small commissions (>1%).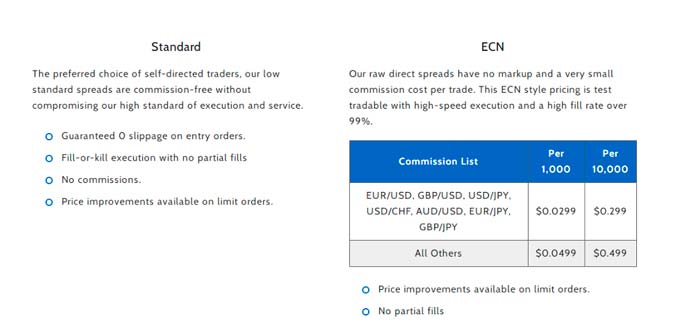 Now, under usual circumstances, that would be a pretty good deal. Either type is pretty beneficial in its own right. Even larger spreads are usually not a big deal, because decent brokers try to mitigate the spread slippage. FXDD does not, as you'll see.
Alternatively, different types don't give you different technical tools. There are 3 platforms available to you in any case: the good old MT4 and MT5 and the WebTrader. There are certain number differences, but they are negligible.
Prices
While on the subject of commissions, FXDD intended to have a very interesting withdrawing system. In it, the users would be gradually charged more withdrawing commission during the month. The first return wouldn't be charged at all, but all the following ones will.
Depending on the type of product, the numbers would change, but the usual fee was $40. The deposits, meanwhile, wouldn't be charged at all and there would be a fairly large selection of transfer means (bank wire, card, payments system, and so forth).
The Problems
Now for the things that make this broker an unbearable experience. They are generally a fraud company, this much should be clear – there's a lot of evidence. But if you put your finger on something specific, these several problems would be major.
Their overly-harsh security results in the comfortable problems for the users. Predictably, they don't demand any sort of verification once you register your account. However, when you're done trading and what to withdraw your money, they'd ask you for all sorts of documentation, including even your own photo.
Their urge to let anyone in as smoothly as possible actually resulted in them being scammed by a fraudulent user who somehow manipulated the prices, which resulted in some funny litigation.
This is actually the major problem, but it neatly compliments the previous problem. See, they rarely return your money after you've submitted a withdrawal request. When they feel like explaining, they sometimes summon the security problems or say nothing at all. That's a usual problem in trading, nothing special really.
They've been fined several times by the authorities of Malta (where they're registered) for artificially bloated slippage. It means people expected to lose just a little bit of money in spreads and ended up losing much more than that.
It's likely that FXDD indulges money laundering as well, and that these two activities are connected.
So, they are not just sneaky frauds, they are criminals.
In conclusion
If you've come this far simply to understand why many people hate FXDD so much, you know that most of these complaints are true. All the documentation that indicates their illegal activity is in open access. You simply need to go through some Maltese archives.