FX Choice Review: A Good Choice or a Scam?
More and more traders get a hang of online trading. The recent events forced everyone to find an alternative to their regular job. If you know how to manage your money, trading is just the thing for your. However, trading involves two parties: the trader and broker. Which one can you trust? Find it out in our FX Choice review!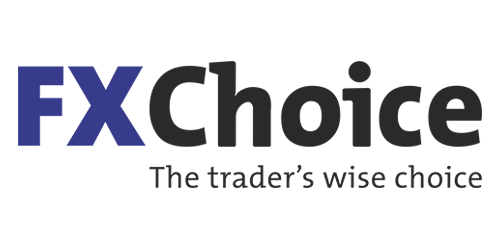 About FX Choice
Before we start, you might be wondering what is FX Choice. This is a brokerage company founded in 2010. The people working there already have a decade of experience. They had their ups and downs, but the broker managed to pass through all the hardships.The head office of the company is located in Belize. As it is a global broker, FX Choice operates in many countries: Canada, Germany, Portugal, and many others. The company seems to be interested in having a good reputation worldwide. But can it be trusted? Keep on reading to find out!
What Can You Trade With FX Choice?
Unlike many other brokers, FX Choice has a narrower selection of tradable assets. These are CFDs in:
Forex
Crypto
Indices
Spot Metals
We compare the number of assets with other brokers, that is why we can definitely say that the options are much narrower. You might say that these choices are good enough for most traders, and this would be correct.
Commissions, Fees, and Spreads on FX Choice
Of course, there are certain amounts one must pay for using the broker's services. FX Choice offers traders the following terms:
Spreads starting with 0.1 pips
Minimum trade size is 0.01 lots
Maximum leverage is 1:200
Other advantages include rapid market execution and price improvements for all order types.
Please note that there might be additional fees when you make a deposit. The amount depends on your payment method. It usually isn't very high, but you might want to keep that in mind when working with big amounts.
Trading Platforms at FX Choice
FX Choice is also known among traders as the "MetaTrader broker". This is because the company processes all trades only with the help of the MT platform. If you take a closer look, these are:
The software is trusted for many years of flawless service. You can trade from any device you wish: PC, tablet, smartphone. The best part of it is that wherever you go, all your trades go with you as long as your mobile phone is with you.
Regulations for FX Choice
The most important part for any broker is to have a regulatory authority monitoring it. FX Choice does have regulation authority overseeing it. It is the Finances Services Commission Belize. It is important to note that the broker has kept a good reputation from beginning, and there were no negative claims from anyone.
Account Types at FX Choice
Like many other brokers, FX Choice sets out three account types for all users. Feel free to choose from:
The difference is mostly in the fees a trader has to pay. The Classic account charges them through spreads, while the Pro account charges $3.50 for every $100 000 traded. The second option is more suitable for scalp traders or bot users.
A few words about the demo account as well. It is good to know that there is a demo for both the Classic and Pro account. This means that you can test out the commissions without actually spending any money.
Payment Methods at FX Choice
First of all, we shall have a look at what FX Choice uses as deposit methods. There are many options available including:
Bank transfers
Cryptocurrencies
E-wallets and others.
Here is a screenshot of the methods used by the broker for processing deposits.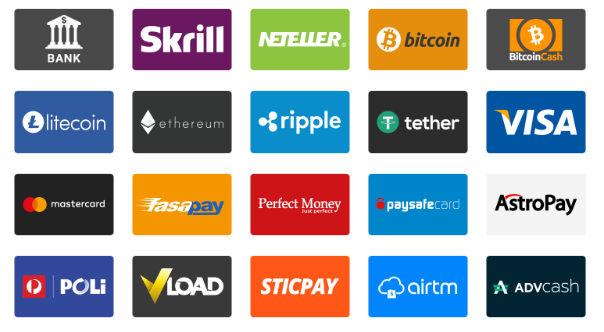 However, withdrawals have a smaller range of choices. Still, FX Choice makes it possible to use the majority of services as withdrawal methods.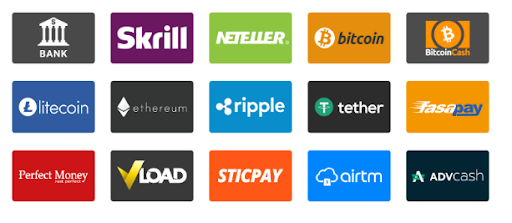 Detailed information on deposits and withdrawals can be found on the broker's official website.
FX Choice Website
The FX Choice official website is the place all traders find the login page to reach their accounts. The website is very simple and does not seem to be attractive for users who love great designs. However, even a child would understand how to navigate the menu. This is why the simplicity in the design wins – it is very user-friendly.
There are several main sections which include:
Range of Markets
Trading Platforms
Trading Services
Accounts
Referral Programs
FAQ
Company
In the FAQ section, there are several sub-menus. We would like to bring attention to the "Knowledge Base" section. It contains many useful articles and guides on using the service, trading, and solving various issues that might be encountered during work.
FX Choice User Opinions
Finally, the last part of checking the broker's trustworthiness is looking at the user reviews. You can find those which state that FX Choice is a scam and those which contradict this statement.
Hank001, a user from the United States, mentions that although the welcome bonus at FX Choice is not that big as with other brokers, he has had a good trading experience. He also says that the platform is easy to use, contacting the support is easy, and there are no troubles with withdrawals.

Another user Joel Genesis is from Nigeria. He considers FXChoice to be one of the best Forex brokers due to the simplicity of the usage. He also really likes the low spreads which make his trades more profitable.

Overall, you can search for more reviews on your own. Please note that there may be scam websites that post fake reviews for other brokers to promote a fake brokerage service.
To Sum Up
FX Choice is a decent and trustworthy brokerage service with a decade of experience. Many users trust this company and prefer using it as their main place to invest. There are many advantages: low spreads, trusted software, a good base of educational materials, easy deposits and withdrawals, etc.
If you have had any experience with FX Choice, please let us know about it in the comments. This will help other traders see the truth about this broker!