EasyMarkets Forex broker: reviews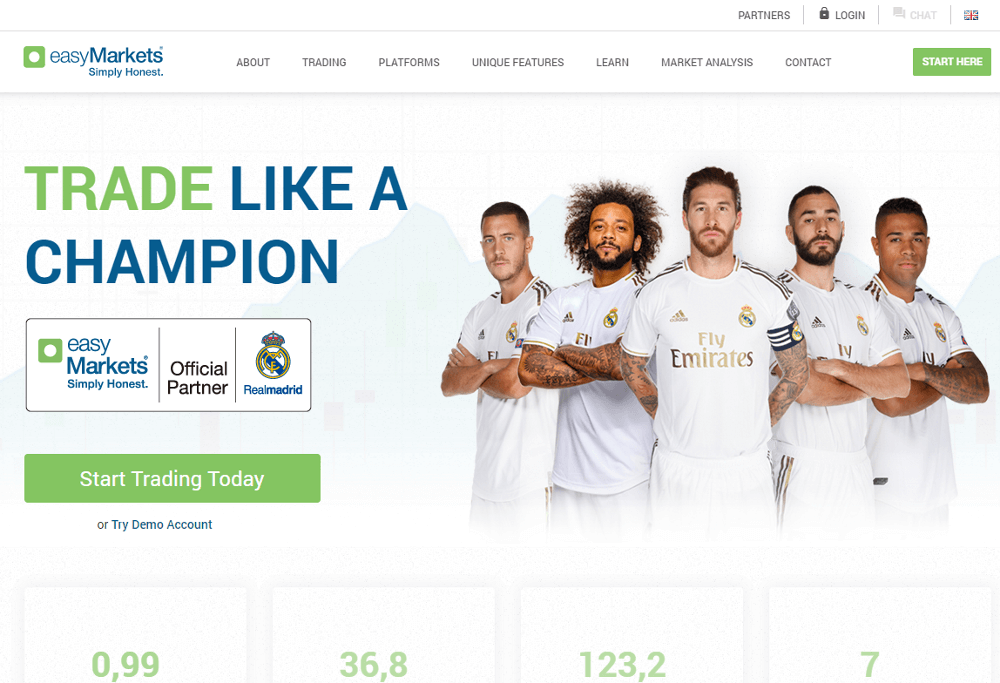 EasyMarkets is one of the more famous worldwide brokers, for different reasons. It can boast a large number of regular users, as well as rich background. All this means that you can find a lot of unbiased reviews simply by searching for them online.
And if you do look for them, you'll find that an overwhelming majority of community reviews are positive. It's surprising, considering that the platform is a bit outdated as of today. But let's see what it can give its users in order to figure out the line of thought. And then you'll get a feedback overview.
What is EasyMarkets
EM claims to be one of the first truly accessible trading brokers on the Internet. The company was founded in 2001. For that time, being democratic to your users is a big feat. Today, however, you need to offer more than that to stay relevant. And it seems EM has a lot to offer.
EasyMarkets offers a large variety of goods to trade in:
Forex goods;
Stocks;
Cryptocurrencies (Bitcoin, Ethereum and Ripple);
Commodities;
Metals;
Indices
There are several systems you could use to trade here: MetaTrader 4, different mobile apps, and their own EasyMarkets Platform. EM Platform is bound to be a bit more innovative than the old 12-years-old platform that is MT4.
They don't allow you to use MT5 for this reason – they want to promote their own platform. It's hard to say which platform is better, but at the very least it must be simplistic, because it's one of the company's main values.
The values, as presented on the 'about us' page are, as follows:
Simplicity, buy which they mean accessibility and ease of doing business;
Honest, buy which they mean non-interference;
Transparency, by which they mean stability and independence of markets
But let's see if these values get implemented in practice.
The ranking
The feedback for EasyMarkets is overall divisive. Some website (like trustpilot.com) give up to 4.7/5 stars, while on other platforms (like forexpeacearmy.com) they barely scrape a 3. It requires some investigating.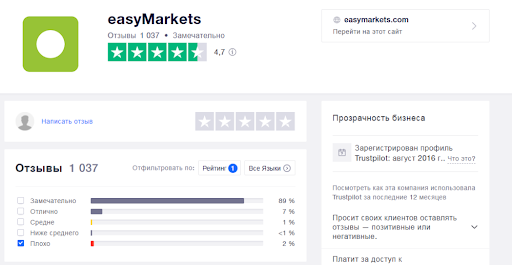 The advantages
Right off the bat, you need to remember that most positive reviews are there by 'invitation' form EM. It means they asked people to leave them out. It doesn't make them exactly unbiased, but there should a kernel of truth in the mass of them.
The service is great. By all accounts, the service on EM is not bad. The staff helps people with the technical issues as well as patiently directs their verification process and diligently answers the questions. It's unknown how many stories about 'great service' are influenced by EM, but users wouldn't leave such praising comments if there at least was some help.
Surprisingly, but the most praise comes not for the helpfulness as it is, but rather responsiveness. Plus, even the negative reviews report that each time they complained about their specific problem, they were contacted by the member of the staff. Not to mention that every complaint on the actual review websites is addressed by the member of the staff.
All in all, you can expect responsiveness: you won't be ignored or sidelined. The quality of said help is still a mystery, however.
The disadvantages
Now, it's time for the downsides. There's quite a few of them.
The platform isn't simplistic in the slightest. It may be an adequately easy task to set up the account here. Then the confusion starts. The website itself is littered with different tabs and menus. So much so, you don't know where to look at first. There are seven tabs, each opening up a menu that may consist of several more tabs. And each may be subdivided into the smaller chapters. In short, it's littered.
But when you get to the trading itself, you notice that it doesn't get any better. In fact, it gets worse. EM Platform is littered with charts. It was mentioned that it must be easy-to-use, and it is promoted as 'simplified trading'. However, the design is unorthodox and, quoting one of the unfortunate users, 'all over the place'.
It may be not terrible, but it's definitely not as simplistic as the company claims.
'Unauthorized activity' accusations are frequent. EM is notorious for their 'unauthorized activity' accusations. They result in freezing of funds and long cases with the users whose funds were frozen.
Generally, they arrest rather large amounts of money for reasons like 'hedging' or 'excessive leverage'. The proof of this activity is nowhere to be found for a long time. You can sit there for months without any proper inquiry. The logic behind it is simple – by long deliberations they're trying to drive the customers away from the platform and take over their profits. It's not uncommon.
The spread rates are misleading. Not the greatest of flaws, but enough for certain users to lose a lot of profit. Look closely at the number of losses after each transaction, because EM may be showing you two differences – one smaller that doesn't affect the transaction, and the bigger one that does, but is not shown.
This problem is completely overshadowed by an excessive amount of reviews praising EM for their service and because not many people notice this issue.
In conclusion
EasyMarkets has a lot of positive reviews praising their service. It's odd, because the brokers, however good they may be, rarely climb higher than four. Additionally, a large portion of these reviews are influenced by EM, so they aren't exactly unbiased.
If you're still going to work with EM, the best thing you could do is ask any support member about all these negative 'features' to see if they're as bad as they say.