CMC Markets Forex broker review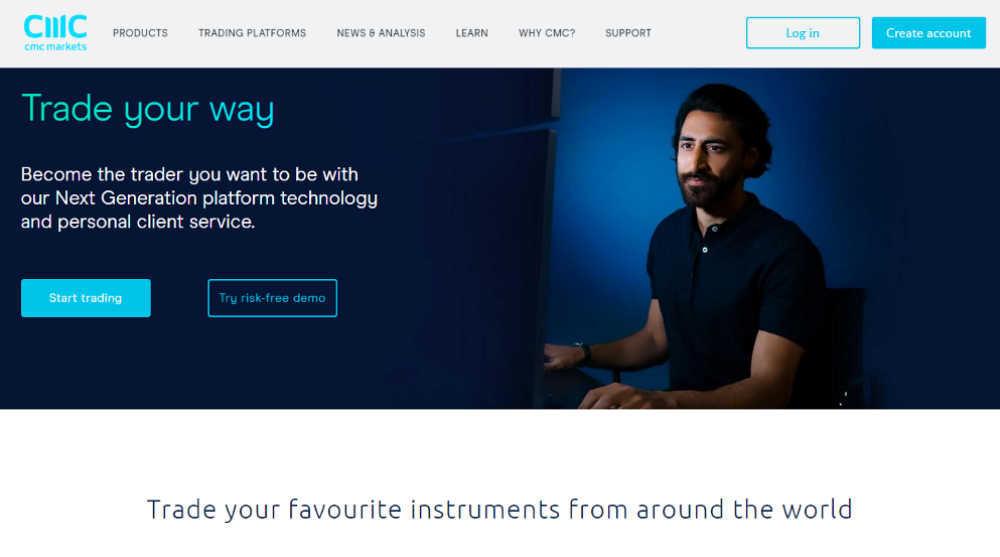 CMC Markets is one of the oldest real-time brokers on the Internet. They've been providing brokerage since 1996, and that's also what made them one of the leading companies in this field. Naturally, it doesn't mean that the company is flawless. Far from that – older companies have fewer excuses for being incompetent. But only the reviews left by the users of CMC will tell you all about their flaws.
CMC actually has a lot to boast. Being a wealthy broker, they can afford hosting more helpful pages that most other brokers. Consequently, this broker has a lot of learning content to offer, as well as news and analytics from top specialists, not to mention extensive Q&A section and more.
Yes, CMC does have a lot to offer. But whether all this content is worth staying or not is up to debate. Before jumping to reviews, however, let's have a closer look at the platform itself.
What is CMC Markets exactly?
CMC is self-described as 'CFDs and Forex' broker. While most either choose to invest into currency here or speculate on prices using CFDs, CMC has a lot more to offer. For instance, there are products like:
Indices
Cryptocurrencies
Commodities
Shares
Share baskets
Treasures
It's a largely standard selection, even with the fact that you can approach each of these assets with a CFD or just spread-bet them.
But it's obviously not the reason why CMC is so attractive to a lot of traders. As mentioned, this broker provides exquisite news highlights and analysis, including
Daily updates
Monthly outlook from top analytics
Charts of your choice.
The learning library, for its part, is too rich to pinpoint even a portion of what's there to read. And if you have some questions about trading or specifically the platform, you can visit the 'support' tab in the header and pick the topic that speaks to you.
It's just a handful of the content available for the users of CMC markets. It's a lot, but it doesn't mean that they can't hide something unpleasant behind this curtain of outstanding material.
The rating
When it comes to checking what the current rating of some platform is, it's better to visit a popular and impartial Forex user review aggregator, like Trustpilot or FPA. However, in this instance the results are highly polarized.
While on trustpilot.com the average rating sits at 4.3/5 stars, the FPA users disagree – they rank the platform at about 1.6/5. Why the results are so massively different is unclear. It's possible that someone influences the results on one aggregator or another, but it remains to be seen.
For now, let's see what could upset the users of FPA so much and what did Trustpilot users liked so much.

The disadvantages
There are several recurring problems with CMC worth noting, as reported by the numerous fresh reviews.
Many users accuse CMC of price and spread manipulation, above other things. While it's not uncommon for a company in this industry to manipulate the markets, it's still a sign of complete costumer neglect. It's even more shameful for an old company like CMC to do so, as if they don't care about their reputation at all.
It should take days to properly contact the support agent. Trying to sort out some misunderstanding with the broker is one thing, but what if the system couldn't respond properly and you had to call support to close your positions? They wouldn't respond and you would lose your money, naturally.
It applies both to withdrawing speed and the speed of execution. The former may be tolerable if security demands you wait until the money go through all the security checks and then arrive at your bank account, which they sometimes don't.
But the execution speed is another problem. The system crashes and execution delays cost you money. It's the one paramount thing the brokers have to provide – fine speed of purchase and sale operations. If you can't even have that, why would you stay here?
The advantages
Naturally, there are also things to commend and praise, not only the downsides. But frankly, they are seriously outnumbered by all the bad stuff happening on this platform.
The reason why there are so much more positive reviews on Trustpilot is simple. The company 'invites' their users to leave good reviews to boost the statistic. It's not to say that the reviews are false, but it's understandable why good reviews outnumber the bad here.
In terms of markets, platforms and features, CMC has few rivals. CMC is rich both in theoretical and practical forms of content, this you know. However, they won't be much use if you can't trade properly or even call upon the support to help fix your issues.
The platform is reportedly very easy to use and navigate. It's unclear exactly what all these reviews mean, but when people report on 'ease of use' in Forex brokers, they usually mean that it's hard to get confused or lost in the maze of pages and software that the broker provides.
Conclusion
There is a lot of learning material and good trading instruments. Some of them you might see the first time ever, but it doesn't mean that you owe the company something or that you have to stay and suffer poor technical choices and potential fraud. Quite the contrary, you should stay away from such brokers, because they know you like when there's plenty of content, and they may be using it.
But the choice is still up to you. Regardless, thank you for reading this.