City Index Forex broker: reviews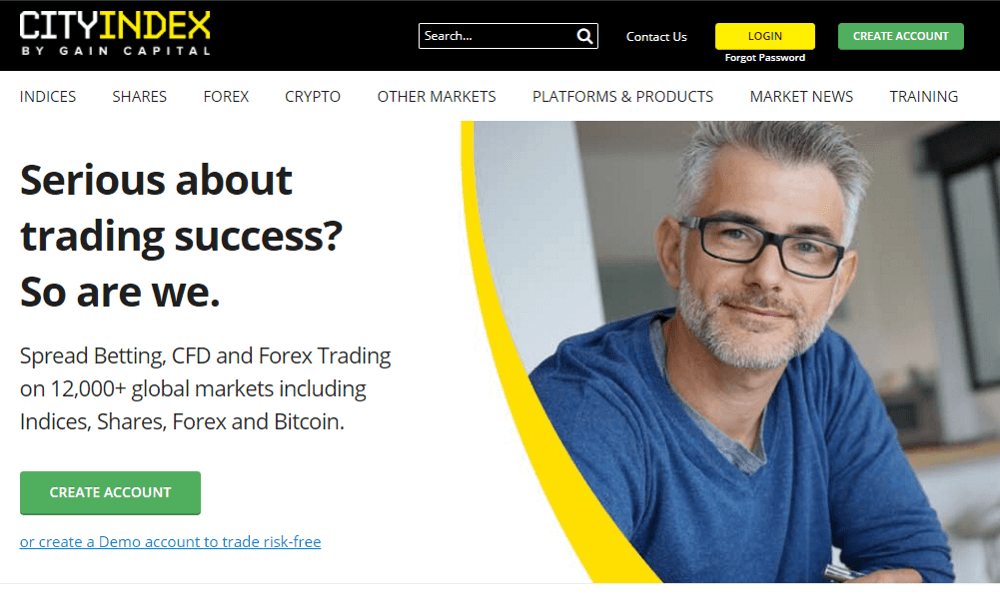 City Index is one of the most famous and prominent providers in all Internet. The opinion of its financial analytics is valued by the media even outside of the online trading niche. For many, the words 'trading' and 'Forex' associate not in the least with this provider.
Because of it, a large portion of newcomers to the business choose City Index as one of their first platforms. After all, if it's so famous, it must be good. However, if you were to search for the user reviews on the provider, you'll see that City Index has issues. But more on that note later.
Now, let's see what City Index has to offer before starting to criticize them.
What is City Index?
City Index is one of the biggest brokerage providers in the United Kingdom, and also the Europe as a whole. It's an old establishment, too – founded in year 1983. Certainly, they didn't provide online trading services right away, but it's definitely one of the most ancient names on the market.
The number of markets and features CI has to offer for trading is mind-boggling. Their official website counts 12.000 different markets for various resources, namely:
Forex;
Shares;
Crypto;
Commodities;
Indices
Interesting trivia: City Index Group (the company) also own Forex.com which is the #1 foreign exchange for obvious reasons, not to mention 5 more quality financial providers. Bottom line is, if you're a professional trader or soon to be one, you will or already had dealings with them.
As to the products they offer, there are 4 different trading platforms of their design, including:
Well-known MetaTrader 4
An extensive AT Pro
Web version
Mobile version
They all are highly customizable and equipped with tons of different charts and possible configurations. Everyone can find a trading system for themselves.
Additionally, you can undergo certified City Index training. Here, the experienced traders can know more about the various strategies, and the newcomers can learn a thing or two about trading.
That's largely all there is to note. The website (cityindex.co.uk) provides a lot of trading content, though it's objectively littered. You can't easily find all the information you need to know before signing up. For that, you'll have to browse through user reviews.
The rating
Despite being an 'award-winning' titan of industry, City Index doesn't have too many user reviews in the open. At least not the amount you'd expect. Regardless, trustworthy aggregators generally don't hold City Index in high esteem. On Trustpilot, for instance, the broker has 2.6/5.
It's really poor, especially since the rating isn't so low because everyone gives it average reviews. No, it's because 37% of reviews gave it minimum amount of stars, while only 35% gave it the highest honor.
What could aggravate so many people and divide them so roughly? Let's find out from the reviews.
The disadvantages
The platform has certain issues. You might call it 'fraud', but for the sake of impartiality it's better to leave such judgments until after you've seen all the cons and pros and looked clearly at the bigger picture. Now, let's see these issues.
The fees aren't very transparent. The commissions and interest rates aren't featured until after you've signed up, and even then you may not be told about some 'elusive' rates. How about 12% commission on an average trading operation? There certainly are exchanges with much lower rates. Some trustworthy brokers don't even charge it.
And did you know that your overnight positions are charged with overnight fees? You might not ever notice it, because they aren't featured anywhere, including the financial history. It is uncomfortable that it happens, to say the least.
The broker has withdrawal problems. It's nothing new – a lot of financial brokers have something similar. These issues come in different varieties, but generally boil down to similar outcomes. They either refuse to withdraw your money to your bank account, or just ban your account and withhold your funds for some reason.
On other platforms it usually happens for 'security purposes'. For instance, they won't give you your money back until you've passed additional verification. You don't generally get offered this possibility on City Index. Most of the time, they just direct you to their e-mail and rarely reply. And thus surfaces the third major problem.
The service is very poor. Many complain that support ignores them, that they don't even exist. These are harsh statements, and you could suspect some sort of bias in them. However, if there is such impartiality, it can't be disproven. The positive reviews are very modest when it comes to praising the service.
Most reviews that do mention it simply talk about it in passing. 'Good service', 'I liked the service', and so on, without even clarifying what they meant by it. The negative reviews do clarify such things. They berate the service because it doesn't answer their pleas and complaints about the withdrawing issues and various other problems.
Overall, the negative side of the story is more believable.
The advantages
If there weren't any good sides, the rating would sit at just 1, right? There are benefits, but they are very scarce.
The technical side is very good. The technical aspects of the platform, including the trading software like much-praised MT4 work fairly well. It seems most positive reviews are happy with the experience. The execution is smooth, and the customized features that City Index implemented into MT4 and other platforms are justified. They truly make the experience better and more comfortable.
In conclusion
Well, you can see that City Index can't really justify their poor aspects with any outstanding features. The only truly notable good side, the technical edge, is completely overshadowed by the sheer number of issues the user will have to go through simply to make profit here.
It's still unknown, however, if it's a fraud platform. It's certainly not a good platform, and you'll be better off somewhere else. Whether it's a fraud company or no, remains to be proven.