Binance Exchange: User Reviews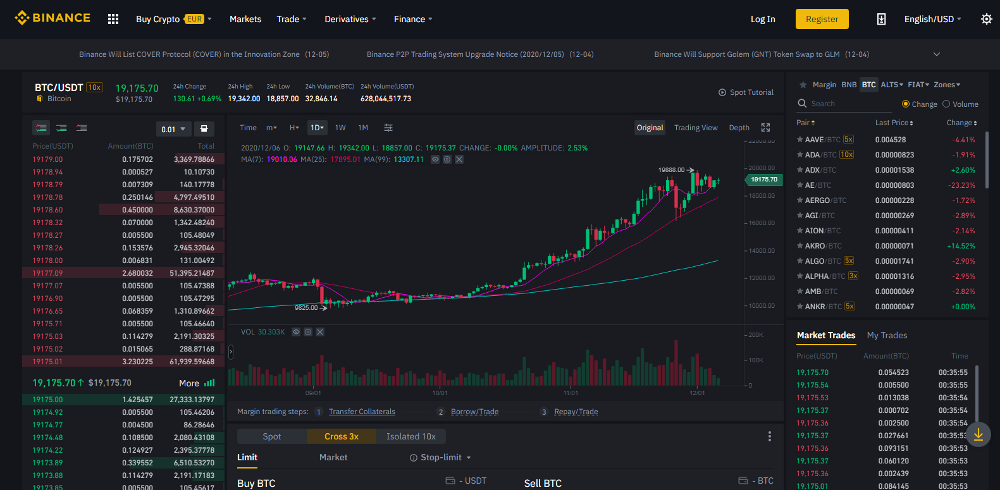 Binance is one of the chief trading hubs out there. It's a crypto exchange with a large selection of trading pairs. Notoriously, they have over 500 unique crypto pairs. It implies that you can pretty much trade in every relevant coin out there on Binance.
But it doesn't mean that this exchange is the best option for everybody. It has its flaws – some of them are incredibly significant, given the size and relevance of this platform. But how do you grasp an overall full picture on an exchange like this? They hide their flaws, obviously, and it takes a lot of time before you notice all of them on your own.
That's why you have to go through the user reviews first. Let's get right on top of that and summarize the thousands of user reviews into several general statements.
What is Binance?
Binance is the model exchange. It's the most popular, most visited and most successful exchange and it inspired many of its rivals/counterparts.
Given its popularity, it's one of the most tempting choices for amateur traders and investors. As such, there's a large responsibility on their shoulders. Bad experience and service provided here can deter potential new traders to continue their work with the industry. That's a no-no.
It's also potentially wasteful for the established traders to ignore feedback of other users. The flaws may be elusive, deliberately hidden or disguised. So, let's head straight to the user critique.
User rating
On different trustworthy user aggregators – those platforms that let users post their own feedback and thus build an overall rating – the rating of Binance is worrisome. It's usually somewhere between 3 and 4.5 out of 5, according to the aggregators like Trustpilot, G2 and so forth.
So, what's the problem?
The advantages
You can't say Binance is bad. There is a lot of love for this platform in the trading community. All this love obviously has some tangible roots.
Binance is famous in part for having extremely low fees on trading. The higher your 'VIP' level is, the lower fees you get. The lowest commission you can get is 0.012%/0.024% (maker/taker) with the highest VIP level and all the bonuses. But the lowest level is still looking pretty good – it's 0.1%/0.1%, which is incredible compared to other platforms.
The whole schedule of fees can be viewed on the official webpage.
Low fees are good, but the real juice of Binance is in its coin selection. There are 500+ trading pairs here, and not just with the popular ones, but also with seldom-required tokens and altcoins. If you've heard about a currency, it's probably on the market in Binance.
Another one of the most mentioned perks of working with Binance is its user-friendly interface. It's clean, easy to navigate and intuitive. As a result, navigating around Binance is very simple.
Additionally, the exchange itself is just as clean as the website that supports it. And in this instance, this comfort has an economic benefit. Confusing exchanges, exchanges with a lot of informational trash and random placement of data all cause you to lose money. Oh, and Binance exchange is also integrated into the website, which is neat.

Disadvantages
There are also flaws that keep surfacing across the reviews. It was worth checking the user feedback, because most of these would only show themselves to you had you spent some time on the exchange already.
No, it's actually one of the famous ones. If you bothered to ask any of the regular users on Binance about the negative sides here, they'd tell you all about the client support.
It's not atrocious, nor is it fraudulent. It's just overcommitted and incompetent. It can take hours or even days on end before you get any reasonable answer to your question or complaint.
As a result, your technical issues or important questions can be left without attention. It's not good, considering that sometimes it means the loss of money or maybe even your personal data if you're hacked.
The security and safety of transactions to, inside and from the platform are fine, they are good. However, the quality of these transfers remains pretty poor. For starters, to be able to transfer fiat money into the exchange, you have to get an approval for it. Knowing how long it takes people here to process anything, you get the problem.
So, no dollars, euro and other currencies for you, you have to buy your Bitcoin somewhere else and only then send it here. This may defeat the point of the exchange for some people.
Plus, the withdrawing mechanism is somewhat limited. You can't make a wire transfer and if you try to withdraw your coins to certain services (like Kraken), this can be blocked for some reason
In conclusion
The perks are pretty good, especially in comparison to other exchanges. They allow you to earn money with comfort and ease, which really is all you need in most cases. However, the flaws are also pretty noticeable. Moreover, they negate the level of comfort upheld by the advantages.
In the end, Binance isn't really uncomfortable. It's very good at making you money in the way that you choose personally. However, there are drawbacks. It's as excellent at making your trading routine comfortable, as it is atrocious at letting you keep that money.
At the very least, Binance agents aren't as rascally as the client support agents on many other exchanges. So, not everything is lost.