AxiTrader Review: Is it a Scam or Legit Broker?
Searching for online brokers can be a real pain. There are just too many of them. One option, however, is more prominent than any other. It is AxiTrader, an Australian broker that operates in Canada too. The broker works since 2007 and has served as an income source for many traders. But can you trust it? Find out about it in our AxiTrader review!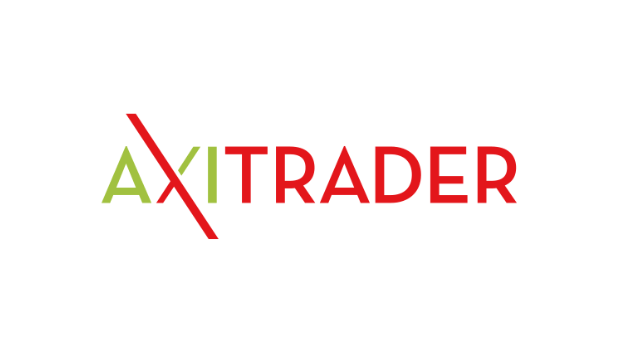 What Can You Trade With AxiTrader?
AxiTrader offers more than 140 assets to all clients. These include many popular and profitable options: currency pairs, cryptocurrencies, oil, gold, silver, CFDs, and many others. No matter what you prefer trading, it is available with this broker.Detailed information for each offered asset can be found on the official AxiTrader website.
AxiTrader Account Types
AxiTrader provides two account types:
Both types might seem to be identical. However, there are features that make a significant difference.
First of all, the Standard account has fixed spreads starting with 1.0 pips. There are no commissions or other fees at all.
Second, a Pro account has spreads starting with 0.0 pips. However, each trade has a 7 AUD commission.
Demo Account
The Demo is another account type on AxiTrader. It grants users with a possibility to dummy-trade for free. Access is given for up to 30 days. Traders are given $50 000 on their virtual balance to check whether this service is good for them. Demo accounts can simulate both standard and pro types. You can create one here.
Spreads and Commissions
A regular AxiTrader account has an average spread of 1.24 (0.44 for Pro accounts) for the EUR/USD pair. For GBP/USD it is 1.73 or 0.85 for Pro, and for the AUD/USD pair, it is 1.34 or 0.42 for the users of Pro accounts.
We have already mentioned the commissions are a bit higher. For standard accounts, the broker offers fixed spreads at 1.0 pips and no commissions. Pro accounts, however, have spreads starting with 0.0 pips and a 7 AUD commission for each trade.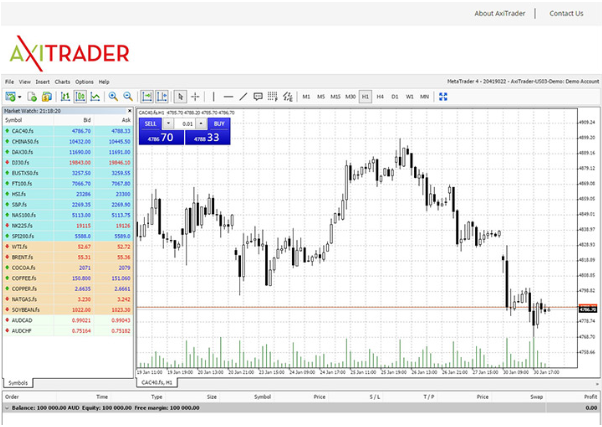 Leverage
On AxiTrader, leverage levels can be changed in accordance with traders' preferences. The limit is 500:1. This is thought to be a very high number. Remember that leverage boosts both profits and losses!
Nevertheless, AxiTrader is an FCA regulated broker. Due to this, European traders may see a leverage restriction at 1:30 or 1:2 for cryptocurrencies. Read more about the regulations in the next part of the article.
AxiTrader Regulation and Licensing
To know whether AxiTrader is a truly trustable one must remember to check if the broker has any regulation. AxiTrader is regulated by many financial authorities worldwide. These include the FCA, ACIS, DFSA, FMA, and others.
AxiTrader is also known for getting the 2017 "Most Reliable Forex Broker" award. Also, the FSCS protects all AxiTrader accounts for up to 50 000 pounds. Therefore, you can definitely trust your funds to this broker because you have a guarantee that they will not just disappear.
Trading Platforms
All the trading software AxiTrader uses is provided by MetaQuotes. These are:
MetaTrader 4 (Mobile, Desktop)
MT4 NextGen (Mobile, Desktop)
MT4 NextGen is an improved version of the regular MT4. It provides additional features and allows using the same signals as in regular software version.
Even if you do not know how to use any of these platforms, AxiTrader provides detailed guides for all traders. Each aspect is explained and shown. In addition, the material is given in a comprehensive way without professional terminology.
AxiTrader Mobile Applications
If you have an Android or iOS mobile device, you can use them to get the free AxiTrader mobile application. It can be downloaded from the broker's official website. There are no difficulties in transferring from desktop to mobile due to the identical design. Therefore, trading on the move is awesome, and you won't have to worry about staying away from your PC for a long time.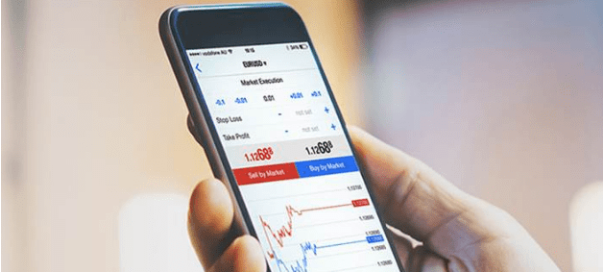 Payment Method
AxiTrader provides several payment methods, so its clients would have no trouble when trying to top up their accounts. Here is a list of deposit methods for Axitrader:
Credit and debit cards;
Neteller;
Skrill;
iDeal;
Sofort;
GiroPay;
China UnionPay;
Bank Wire.
All the listed methods are free to use. Please visit this page to find an up-to-date information about the deposit methods, accepted currencies, deposit and withdrawal times, etc.
AxiTrader Minimum Deposit
The minimum deposit for AxiTrader is $0. However, the broker recommends adding to your account at least $200 if you are taking this seriously. Otherwise, trading professionally and making any noticeable profits will be quite a challenge.
AxiTrader Minimum Withdrawal
Banks do not process payments if the amount is less than $50. That, however, is not a problem for local payments or other withdrawal methods. The maximum withdrawal time is said to be 3 business days.
AxiTrader Website
The AxiTrader login page briefly describes the pros of choosing this service. The menu grants access to all sections of the website: trading information, benefits, educational materials, etc.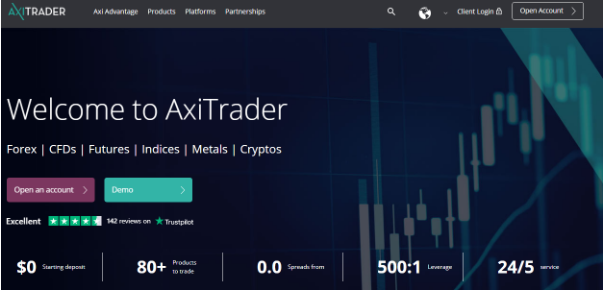 We must note that the design is user-friendly. It is possible to intuitively navigate throughout all the sections and find the information you might need.
AxiTrader User Opinions
We have browsed the internet for some user reviews about AxiTrader. It was good to see that almost every review was positive.
Here is what Raul, a trader from the United States, thinks about AxiTrader. He states that the company had charged back his money after a request and thus, assisted him when he needed it.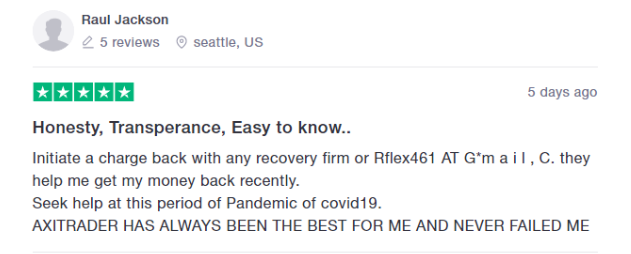 Another example that is more trading-related is from JackW, who considers AxiTrader to be a decent choice for investment.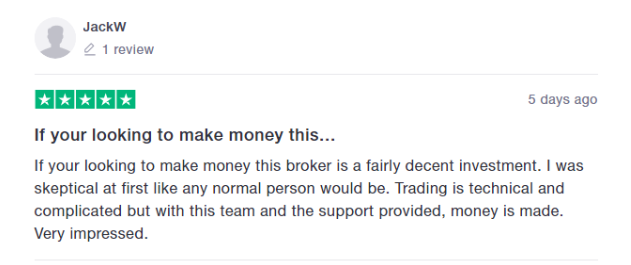 You can easily find other customer reviews on the web. There are many of them, so you will find them right away.
To Conclude
AxiTrader is a 100% trustworthy brokerage service. This broker grants access to plenty of instruments, educational materials, several trading platforms, and good terms. You will not be scammed while working with AxiTrader in Canada or any other country because it is regulated by many regulatory authorities.
We hope that our AxiTrader review was useful to you. Have you already worked with this broker? Tell us what you think about it in the comments!